Hunt: Big time or bust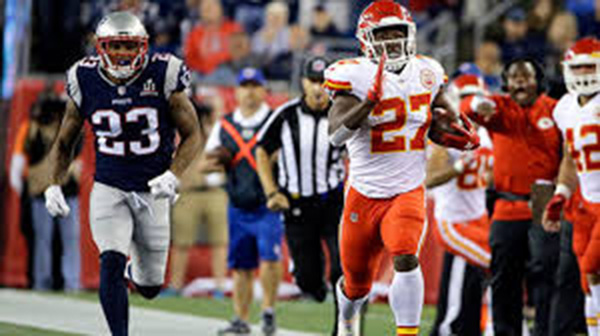 Hang on for a minute...we're trying to find some more stories you might like.
After the first two games of the NFL regular season, Kansas City Chiefs running back Kareem Hunt has generated over 350 yards of offense and has scored five touchdowns. Hunt has been an instant success for the Chiefs, and many question if his stardom will last.
In the first game of the NFL season, Hunt and the Chiefs opened up playing on the road against defending Super Bowl champions the New England Patriots. Many thought that the Chiefs had no chance, but the little-known rookie Hunt tore up the Patriots defense. After losing a fumble on his first NFL carry, Hunt rushed for 148 yards and one touchdown. Hunt also caught the ball five times, totaling 98 receiving yards and he tacked on two receiving touchdowns in the game. With 246 yards from scrimmage in the game, Hunt now holds the rookie record for most all-purpose yards in a debut.
In the second week of the NFL season, Hunt had to live up to the first game hype and he backed up his debut performance nicely. Against the Philadelphia Eagles, Hunt ran for 81 yards and two touchdowns. Also, Hunt totaled 28 receiving yards on three catches.
As a running back who has the ability to not only run but make catches out of the backfield, Hunt led his team to a 2-0 start. At the pace that Hunt is on right now he is looking to break NFL records, but many are still doubtful that he will perform at this rate for the rest of the season. All eyes are on Hunt to see how he will progress throughout the season.
Author
Landon DeBoer, Staff Writer
Landon DeBoer is a first-year member on the Statesman staff. He enjoys playing tennis, studying tirelessly for Jaws' AP Chemistry class, and using oxford commas. Other than that, DeBoer enjoys wasting all of his time so he has to stay up late struggling to finish his homework. He is also inspired by every one of...