Vikings hit their stride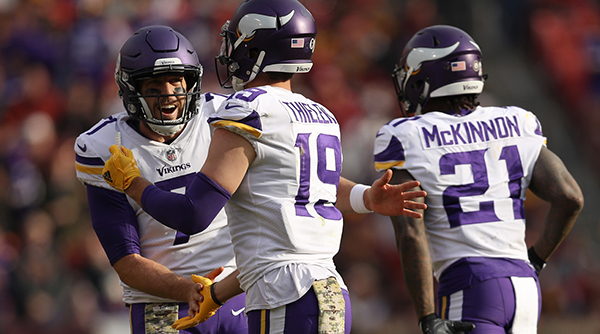 Hang on for a minute...we're trying to find some more stories you might like.
As a diehard Detroit Lions fan, it pains me to say, but the Minnesota Vikings are probably the best team in the NFC, if not the entire NFL.
The Vikings have hit their stride after Case Keenum came in to play quarterback for the injured Sam Bradford in week five of the NFL season. With stellar play on both sides of the football, the Vikings seem to only have one weakness, their special teams.
Keenum has this impeccable sense of where and when to throw the football to limit mistakes. He has the ability to place the football wherever he wants on the football field at any given time. Keenum cannot do it all alone though, as he has stellar wide outs Adam Thielen and Stefon Diggs.
Thielen and Diggs both use their deadly speed to burn cornerbacks and give Keenum open targets to throw to. Also, with his insane hand strength, Thielen can easy catch Keenum's passes.
On the other side of the ball, the Vikings defense has also been excelling in all categories, as they are the number one ranked defense in the NFL. With a strong secondary and defensive line, the Vikings are continuously able to make stops on even  the best of offenses.
The one aspect of the Vikings playing style that may be the Vikings' Achilles' heel is their special teams. Vikings kicker Kai Forbath has had kicking struggles all season with missed and blocked field goals and extra points. If anything is to stop this seemingly unstoppable team, it will be their subpar special teams play.
At this rate, the Vikings will look to go all the way to the Super Bowl with home field advantage, whereas my Lions will attempt to make the playoffs.
Author
Landon DeBoer, Staff Writer
Landon DeBoer is a first-year member on the Statesman staff. He enjoys playing tennis, studying tirelessly for Jaws' AP Chemistry class, and using oxford commas. Other than that, DeBoer enjoys wasting all of his time so he has to stay up late struggling to finish his homework. He is also inspired by every one of...