A first hand look at the cadaver lab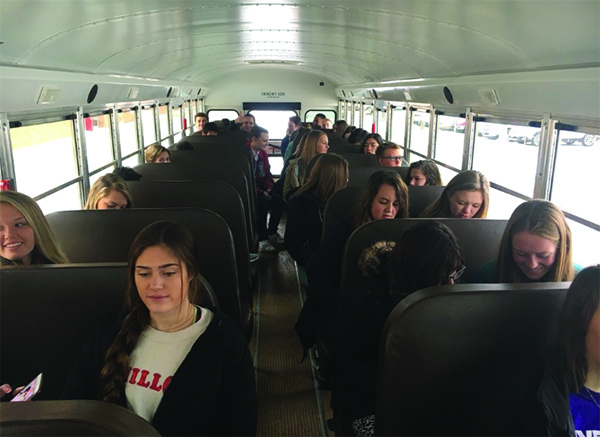 Hang on for a minute...we're trying to find some more stories you might like.
On Friday, March 9, the anatomy classes at LHS took a trip to South Dakota State University to visit the cadaver lab. The buses left around 8 a.m. and got there around 9. Upon arrival, the classes were split up by period and students went to different sections including seeing the dissection of real human cadavers, a tour of SDSU and a classroom where they learned on real skeletons.
Each semester, SDSU gets two new cadavers to dissect and when students got there, the bodies were already there. Both of the people were laid on the table ready to be examined by both the interns and the students. Each student got to hold and touch all the organs. This made for more active participation in what they were learning rather than just knowing the parts.
"At the cadaver lab, we got to see two different bodies and got more hands on experience with the real body parts that we have been learning about all year," said LHS senior Michaela Mohr. "I learned that every body is different and unique in their own way."
After the first session, the students switched and then went on to the next session. Once there, an anatomy teacher from SDSU taught students the difference between male and female skeletons and the difference between skeletons of different races. The catch was they were with real skeletons. In anatomy classes taught at high schools like LHS, only plastic bones are used.
"We got to see fully dissected human bodies," said LHS senior Xavier Kolb. "It was pretty lit. We learned about parts of the body along with theories of evolution. The most important thing I learned though is that the SDSU ice cream is not as good as everyone hypes it up to be."