Forest fires and the environment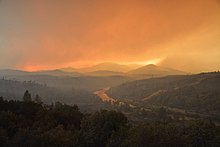 Hang on for a minute...we're trying to find some more stories you might like.
Large forest fires in the US, particularly California, have become very common in the past couple months, forcing evacuations of some towns in northern and southern California.
The Carr, Mendocino and Bull Draw fires burned a total of around 718,354 acres.
The Carr Fire, which has been revered as the sixth most destructive fire in California history, burned from July 23 to Aug. 30 over 229,651 acres.
1,079 residences, 22 commercial structures and 503 out-buildings were destroyed while 190 residences, 26 commercial structures and 61 out-buildings were damaged. Cities and towns were evacuated for fear of civilian casualties.
Another lesser known fire currently happening in Northern California is the Mendocino Complex Fire, which been recognized as the largest fire in the states history. It has burned over 459,123 acres and is 98 percent contained as of Sept. 7.
Colorado has been seeing some blazes lately, one being the Bull Draw Fire near the Uncompahgre National Forest. It takes up 30,580 acres and is 60 percent contained as of Sept. 6.
These fires do not just impact the people living near them, but the environment as well: the effects of these infernos worsen the land by more than just burning down trees.
Fires like these can destroy habitats for animals and contribute to deforestation. The smoke also creates harmful chemicals that can be a danger to human health. Also, the increased output of carbon dioxide contributes to global climate change.
According to the United States Fire Service, climate change will likely affect forest types and increase fire frequency. A changing climate means many trees and plant species will struggle to thrive in their changed environments, creating concerns about biodiversity.
These fires can also cause the soil in the areas they burn to change. After an intense fire, topsoil loses a lot of its nutrients, causing the trees that grow back to be less efficient at taking carbon dioxide out of the air. This ultimately furthers the effects of climate change.
Evacuated towns around the California fires have largely been able to return, but only the future will show the true effects of these increasingly dangerous fires.
Author
Elizabeth Boysen, Staff Writer
Elizabeth Boysen is a first year writer on the Statesman and also participates in varsity gymnastics and cheer at Lincoln. Boysen is a crop top enthusiast and has a strong love for thrift shopping and her dogs. "Sometimes you have to work a little to ball a lot" -Tom Haverford Related Posts The Kaepernick controversy...