LHS prom of '79: a night to remember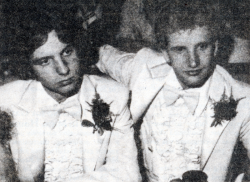 Hang on for a minute...we're trying to find some more stories you might like.
Prom, for most, is a time to get dressed up, go out to eat and then dance the night away. It is a night to relax and let loose. But for LHS prom goers in 1979, this was a dance that would go down in history.
In 1979, LHS was the first high school in the U.S. to have a gay couple attend its prom. The then 17-year-old LHS senior Randy Rohl took his date, 20-year-old Grady Quinn who was also partner of the local gay coalition.
According to the National Gay Task Force in New York, this had been the first time in American history that a couple of two men were allowed to attend prom.
"The rules only say one prom-goer has to be a senior," said former LHS principal Fred Stephens to The Washington Post. "They could take their mother if they want. Homosexuals have rights, too; you have to accept that."
After the news broke, national news casters came to Sioux Falls to share the news. With all this attention, Stephens worried that the publicity might reflect poorly on the school.
"My concern is the welfare of the prom and to guarantee the safety of all students attending, "said Stephens. "This is a fine school with a fine staff and kids. Reading the papers has somehow taken away from that. I'm concerned that kids don't feel as good about their school because of this publicity."
By the end of the night, most students thought of the dance as rather uneventful even with all the media attention.
"I think it's rather sad that my date and I have to get more publicity or more acknowledgement from the press than any other couple," said Rohl. "I don't think we're any more worthy of special attention. Yes, maybe it's a milestone in gay rights, but it's being made into more of a freak show."