Nassar; the truth about the sex abuse scandal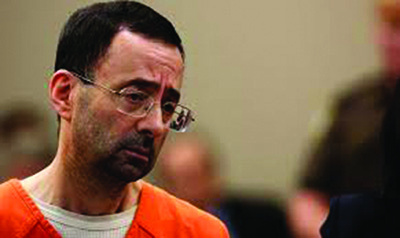 Hang on for a minute...we're trying to find some more stories you might like.
2016. The year the chicago cubs won the world series for the first time since 1908. Pokemon Go is one of the most popular apps that can be downloaded. Donald Trump is elected the 45th president of the United States. The year the U.S. women's gymnastics team wins the gold medal at the Summer Olympics held in Rio de Janeiro.
On Wed. January 24, former doctor for the U.S. women's gymnastics team, Dr. Lawrence G. Nassar was sentenced to 40 to 175 years in prison (after already being sentenced to 60 years in federal prison for child pornography) for sexually abusing over 160 women. Some of the athletes include U.S. Gymnastics national team members Aly Raisman, Gabby Douglas, Jordyn Wieber and Simone Biles. Judge Rosemarie Aquilina opened up her courtroom, which inevitability drew in more than 150 women to speak about the abuse they had endured. When giving the sentencing, Judge Aquilina made it pretty clear that Nassar would spend his last days in prison.
"I just signed your death sentence," said Aquilina, according to the New York Times.
Nassar then wrote a letter to the court stating his accusers were looking for media attention and money.
"Hell hath no fury like a woman scorned," wrote Nassar in a letter to the judge.
Aquilina, who is a strong advocate for the women, then directed her fury at him.
"This letter tells me you have not yet owned what you did," said Aquilina. "You still think somehow you are right, you're a doctor, that you're entitled, so you don't have to listen. That you did 'treatment.' I wouldn't send my dogs to you, sir."  
Moments after the judge delivered her sentence, the Olympics committee issued a statement urging the entire U.S. gymnastics board to resign. The trial caught national attention as it was streamed online to allow for women to give their statements.
"Larry is the most dangerous type of abuser," said Rachael Denhollander, the first woman to come forward with accusations against Nassar. "One who is capable of manipulating his victims through coldly, calculated grooming methodologies, presenting the most wholesome and caring external persona as a deliberate means to ensure a steady stream of young children to assault."
The trial extended for several days after original plans to conclude after four days to allow for more victims to come forward and speak of their abuse.
"Imagine feeling like you have no power and no voice," said Raisman. "Well, you know what, Larry? I have both power and voice, and I am only just beginning to use them. All these brave women have power, and we will use our voices to make sure you get what you deserve: a life of suffering spent replaying the words delivered by this powerful army of survivors."