What makes a Rubik's Cube genius; LHS junior explains his obsession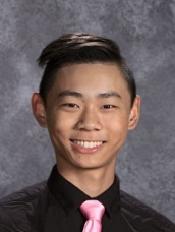 Hang on for a minute...we're trying to find some more stories you might like.
40.98 seconds. In 40.98 seconds, Bowen Liu, a junior at LHS can perfectly solve a 3-D Rubik's Cube puzzle. Yes, the mind-boggling cubed puzzle that takes the average person days to complete.
Liu's interest in "cubing" started in early February and has turned into more of an addiction for him.
"The first time I ever solved the cube, it took me around one and a half hours using tutorials online and also just through trial and error," said Liu. "A lot of people think it is boring because you do the same thing over and over [to solve the cube], but I think the idea of setting goals and getter faster is what makes cubing so fun."
What also motivates Liu to improve his solving time is the possibility of competing in cubing competitions. The current world record for time to solve a Rubik's Cube is 4.59 seconds, according to Business Insider. Before Liu participates in competitions, he wants to improve his time to an average of 20-25 seconds.
Although there are around 43 quintillion ways the cube can be scrambled, Liu learned a way to properly, and speedily, solve the cube.
"The CFOP method I use only has seven algorithms that are short and easy to remember," said Liu. "Doing these algorithms in the correct sequence will eventually solve the cube."
Currently, Liu spends about 30 minutes to an hour practicing each day and predicts he will be ready for cubing competitions in the near future.
"Usually, you can go down a minute in a month, then 30 seconds in about four months and then possibly 20 seconds after a year's worth of practicing. But, [overall], it really depends on practice and methods," said Liu.
Other Rubik's Cube facts
"A three-year-old in China solved the cube in under two minutes," said Buzzfeed.

A man took 28.8 seconds to solve the cube, blindfolded, also according to Buzzfeed.

"Every legal permutation of the Rubik's Cube can be solved in 20 moves or less," said Buzzfeed
To keep up with Bowen's Rubix Cube adventures, visit http://therubiksgod.wixsite.com/blog/
Author
Summer Ericson, OPED Editor
Summer Ericson, the Statesman's OP-ED editor, is a senior and second-year staff writer. When she is not writing about controversial topics, working, doing homework or studying, she is sleeping or compensating for her lack of sleep by drinking coffee. Ericson is an avid believer in equality, justice and the continuation of the POOT meme. Related...