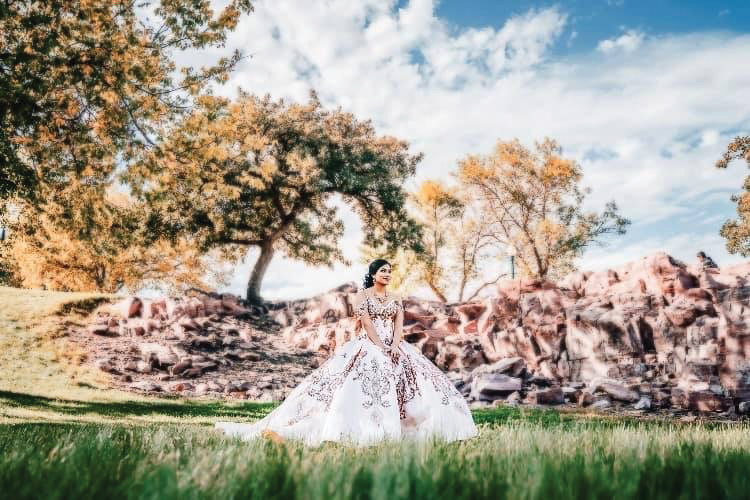 Jimena Hernandez
I think I speak for a lot of people when I say the day of my 15th birthday was not far off from any other ordinary day. Sure, there were the annual texts full of birthday wishes, a party with friends and of course the cake, but nothing in particular stood out above any other birthday celebration I have had. For LHS freshman Jimena Hernandez, her 15th birthday celebration was nothing short of the magical day she had always dreamed of. The venue was booked, a professional photographer was hired, the dress was fitted and elegant invitations were mailed to friends and family near and far. It was time to celebrate Hernandez's quinceañera.  
On Sept. 28, Hernandez was treated to a day fit for a queen. First on her agenda: hair and makeup. Next came putting on her gorgeous gown chosen specifically for her special day. The sheer importance of the quinceañera in Latin American culture calls for nothing less than the most lavish celebration.
"Celebrating a quinceañera holds a lot of significance," said Hernandez. "It means becoming an independent woman who no longer needs someone to hold her every step of the way. But part of gaining independence is still being strong enough to ask for help when you need it, even though you are a grown woman now." 
Hernandez's faith was of great importance on the day of her quinceañera. Following her early-morning preparations, Hernandez, along with close family and friends, went to mass to officiate her transition into adulthood.    
"The importance of a quinceañera is not just the celebration, but also giving thanks for the passage of a young girl into womanhood," said Hernandez's mother, Araceli Hernandez. "We celebrated in church to give God thanks and for Jimena to receive blessings." 
Hernandez was surrounded by friends and family from sunrise to sunset on the day of her quinceañera. Among the guests that flooded the extravagantly decorated reception venue were Hernandez's damas and chambelanes, close friends that made up the court that stood in support of Jimena at this momentous occasion. Fellow LHS freshman Claire Conover was one of the honored few who Jimena chose to be one of her damas. 
"Being picked as one of Jimena's damas came as a surprise, but it was really nice of her," said Conover. "I think the reason she asked me was because she knows I will support her through everything she experiences. I was alongside Jimena during every event of the day." 
Part of what makes a quinceañera celebration so special is all of the unique traditions that the day encompasses. Among the most memorable was the presentation of Jimena's last doll, to say goodbye to her childhood, and her first pair of high heels, to welcome her as a grown-woman. 
"Having your flats changed to high heels is important because it symbolizes, for me at least, no longer needing the stability of the flats to hold you up," said Herndandez. "Instead, you start taking risks and get the confidence to stand on something more fragile just for the feeling of freedom." 
If there was one moment Hernandez will never forget from her perfect day, it is the dance she shared with her father. 
"The father daughter-dance was the most special part of the celebration for me," said Jimena. "It was very emotional for my father and me. We have always been so close, but he knew it was time to let me go and experience new things. I didn't want my dad to feel like I didn't need him anymore. I want him to understand that I still need his support, just not as much as when I was younger." 
It is safe to say that the day of Hernandez's quinceañera was unlike any other. There were family and friends, dancing, food and drinks and fond memories made by all. It was a beautiful day for a beautiful girl. 
"It's a bittersweet feeling knowing our little girl is growing up right before our eyes," said Araceli. "We are very proud of how she is evolving into the person we want her to be, [someone who is] strong-minded and knows right from wrong. We are proud to call her our little princess."