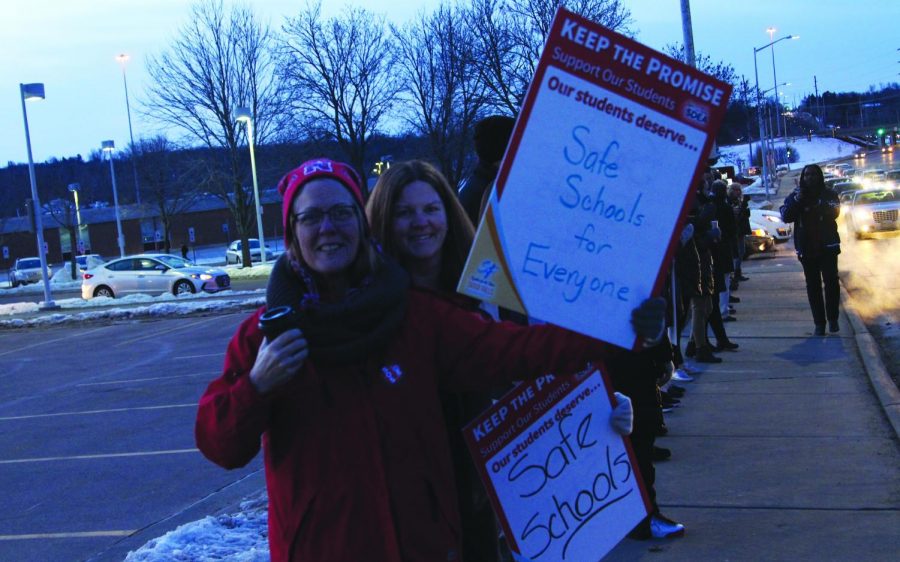 Chloe Harbaugh
On Wednesday, Feb. 5, 33 LHS teachers participated in a district wide walk-in concerning issues on school funding. The walk-in took place from around 7:15 a.m. to about 7:30 a.m. The protest was held before school so that it would not interrupt student's education. After all, the teachers aren't only protesting for themselves, they are protesting for their students.
The theme of this peaceful protest was "Support our Students, Keep the Promise." For the walk-in, many teachers wore the color red, made signs and wore a sticker that had the letters SOS on it, which stands for "Support Our Students." The teachers stood in a line on LHS's sidewalk facing Cliff Avenue. As cars drove by, the teachers held up their signs and waved. After, they walked towards the school together, as one unit to show that they are united.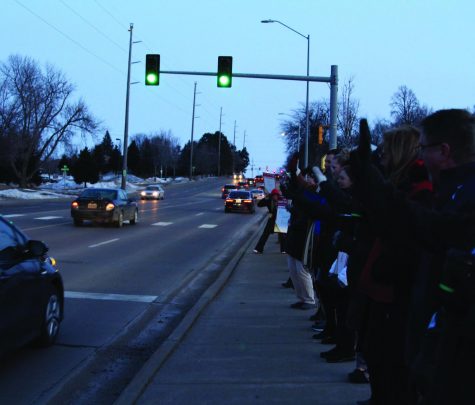 After Gov. Kristi Noem proposed no increases in state aid for teacher salaries and other overall funding cuts in the education system, many teachers decided that something needed to be done. Their goal of the walk-in was to bring attention to their cause by showing that South Dakota teachers are in this together and that they are here for their students. 
Teachers want state officials to keep their promise of providing students with the best public education possible. In order for that to happen, the state needs to keep up with its fundings for education. When it does not, many students are losing quality teachers and programs due to inadequate pay and limited resources. 
LHS teacher Susan Waagmeester was one of the 33 teachers that participated in the walk-in. Waagmeester explained how the capitol made a promise to South Dakota to fund education and how they are not sticking to their promise. She believes that those in Pierre need to look at the funding given to education so that programs are not cut and class sizes do not get too big.
"I think this issue is important because this isn't a union or a non-union issue, it's not an administration or a staff issue, it's an everyone issue," said Waagmeester.  
Teachers want to give their students the best education they can. In order for that to happen, the state needs to keep its promise to increase teacher wages to meet inflation and continue to support South Dakota school districts.
  "It was important that we bring everyone together to make a statement to show the public that education is important and we want safe schools," said Waagmeester