The world is ending: what coronavirus means to LHS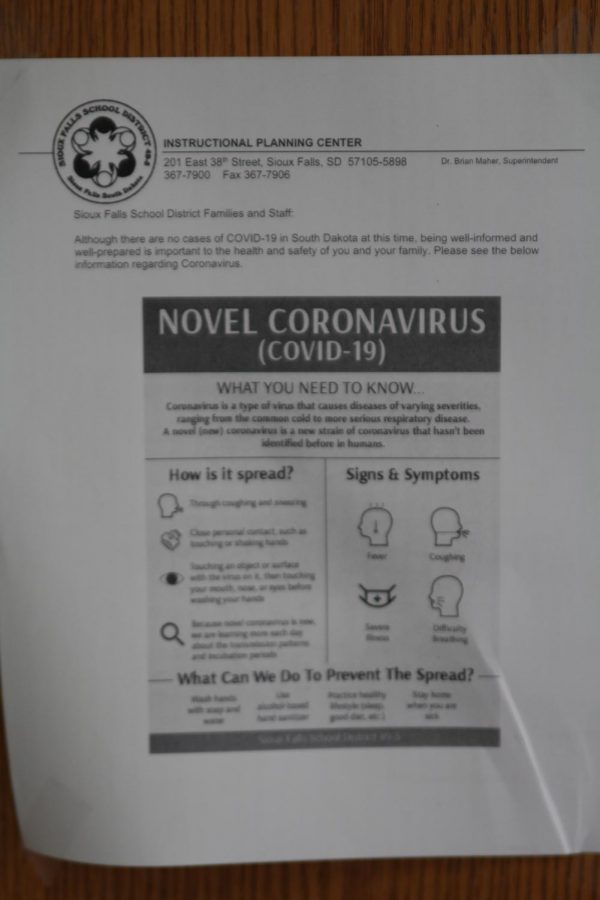 Flu season has hit a little harder this year, or should we call it corona season? The coronavirus (COVID-19) is impressively causing quite the ruckus, and not only in the medical field. The US Federal Reserve has slashed interest rates by half a percentage in response to coronavirus. Medical face masks are selling out at a rapid rate, despite the CDC urging the public to stop buying face masks. Even Trump is donating a portion of his salary to the department of health. Many frantic citizens around the US. and the world are stockpiling dry goods and medicine. In other words: The world is preparing for a catastrophe. Should we?
Let's not get too ahead of ourselves. First, a breakdown of the facts.When this article was written, there were approximately 92,385 cases of coronavirus. Of those  there were 3,165 deaths and 48,469 recoveries worldwide (check here for live updates). Those numbers have the death rate for coronavirus at about 3.4 percent, but this percentage is obscure as there are many active and unsure cases that can result in a wide range of percentages. 
So, do we, in Sioux Falls, SD, as students at Lincoln High School, have anything to worry about? As high schoolers, probably not. The death rate of 10-19 year olds is 0.2 percent, compared to 14.8% among those aged 80 and up. It may be a different story for family members and loved ones, but anyone of high school age with no serious pre-existing medical conditions should not have much to worry about. As South Dakota residents, we seem to be sitting pretty good as well. As of now, there have not been any coronavirus related deaths in South Dakota or any bordering states (take a look at this map for more details). As far as confirmed cases, there have been confirmed cases in Nebraska (Omaha specifically) but none in South Dakota or any of our other bordering states. 
Granted, the virus is not carried in the wind and sweeping the nation like a wave; instead, it is often transmitted by and to travelers. But the further away the location of the cases, generally, the less likely it is that someone happening to be in that area will one, come into contact and contract the virus, two, come back to South Dakota with it in their system and three, not discover their infection before reaching their destination. We are at a slight disadvantage in Sioux Falls, having one of the major airports in South Dakota, but this detail seems unlikely to affect any person's odds at survival, or their odds of even contracting COVID-19.
Heidi Lebon, LHS Nurse, expressed a similar sentiment.
"I don't feel like South Dakota is really at threat at this time, with the flu virus killing off more people than coronavirus. There's a lot of hype behind [the coronavirus] and a lot of misinformation and it's really putting a scare in people," said Lebon.
Still, it never hurts to be prepared. As of Monday, some school districts in Washington have closed where there has been some relation to the disease through students. Others around the area and country have declared a "state of alert" and sent out various other warnings. One school district in Florida was taking measures to prepare students for online classes. Some administrations, on the other hand, are emphasizing that students cover their coughs and sneezes. The different levels of "preparedness" are quite polar. What is actually necessary? The CDC is recommending that schools with no COVID-19 identified within their community merely take precautionary steps, review emergency plans, be in contact with health officials and establish procedures and keep a healthy school environment. If coronavirus has been diagnosed within a community, or even within the school, the CDC recommends that a school determine if, when and for how long schools should be dismissed, and if schools are dismissed they should still ensure continuity of education and meal programs.
The Sioux Falls School District currently falls in the "just be prepared" grouping.
"The school district's health services is in constant contact with the health department, so we'll be the first to know if there is any threat," said Lebon. 
The World Health Organization has so far rejected coronavirus as a pandemic. Perhaps the real pandemic is the spread of fear, "hype" and misinformation by the media and panic-stricken individuals. As for LHS, there seems to be little reason to worry. However, there is still one easy way to protect yourself (maybe you guessed it): wash your hands. 
Author
Sara Croghan, Perspectives Editor
Sara Croghan is a first-year Statesman staff writer and junior at LHS. She plays volleyball and runs (jumps) track. Sara is an outdoor enthusiast and loves...