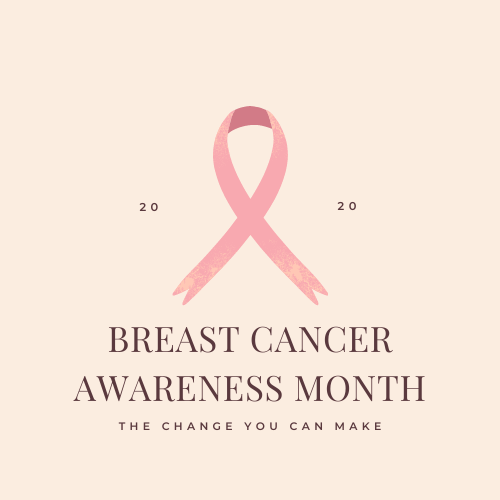 Chloe Houwman
This October many are preparing for a virtual Halloween celebration, a presidential election and the holiday season. October, however, is also a month dedicated to the support of the men and women that are fighting or have fought against breast cancer.
Since 1985, October has been deemed National Breast Cancer Awareness Month (NBCAM), a national fundraiser founded by the American Cancer Society and Imperial Chemical Industries (which is now part of AstraZeneca, a producer of several anti-breast cancer drugs).
According to breastcancer.org, 1 in 8 women will be diagnosed with breast cancer at some point in their life. This year scientists expect an increase in breast cancer related deaths due to COVID-19, as stated in a study published by The Lancet Oncology. Now, more than ever, it is important to spread awareness and gain support in the fight that affects so many families across the planet.
Here is what YOU can do to make a change (this month and every month):
Donate:
          Looking to donate? The National Breast Cancer Foundation (NBCF)  has a program that allows individuals to choose where your donation will go. One can choose between screening, support, the general fund and education.
Screening: Provide free mammograms and other vital screenings to remove financial burdens for those in need.
Support: NBCF has multiple support groups that your donation can go to- HOPE Kits, Metastatic Retreats and Support Groups. This donation will help guarantee that all women will have access to resources to help them recover.
General Fund: Making a donation to this fund will allow NBCF to direct funds to the programs that are in dire need of aid. 
Education: Give to NBCF's Outreach and Education Program to help provide women the information they need to protect themselves. 
Volunteer opportunities:
          The American Cancer Society has an online platform that allows one to search for volunteer opportunities in their community. Their programs range from organizing a fun run fundraiser with Making Strides Against Cancer to providing cancer patients with rides to treatment with their Road to Recovery program. Sign up and find a time that will fit in your schedule. 
Wear pink:
          As many know, pink is the color that represents support for breast cancer. Many companies from Aerie to Columbia are showing their support for this cause by creating products that have the breast cancer ribbon on them or have pink products that in purchasing, part of the proceeds go to breast cancer support and research. This is the 10th year that Aerie has partnered with Bright Pink, a non-profit organization dedicated to early detection of breast cancer. Simply wearing pink is a way to show the men and women battling this illness support.
Sign petitions:
          The American Cancer Society Cancer Action Society (ACS CAN) has a petition asking Congress to make more funding available for cancer research and prevention programs. Another petition made available by ACS is the opportunity to craft a letter to your U.S. State Senators to pledge more funding.
Inform yourself and others: 
          Having the difficult conversation with your loved ones about your family's history with breast cancer can inform you of the risks that you may encounter. The more you know about your family's cancer history, the more knowledge you can share with your doctor. It is encouraged to also learn about the ways that you can prevent breast cancer. According to Mayo Clinic, by limiting alcohol intake, controlling your weight, not smoking, being physically active and limiting exposure to environmental pollution you can potentially decrease your risk of breast cancer.