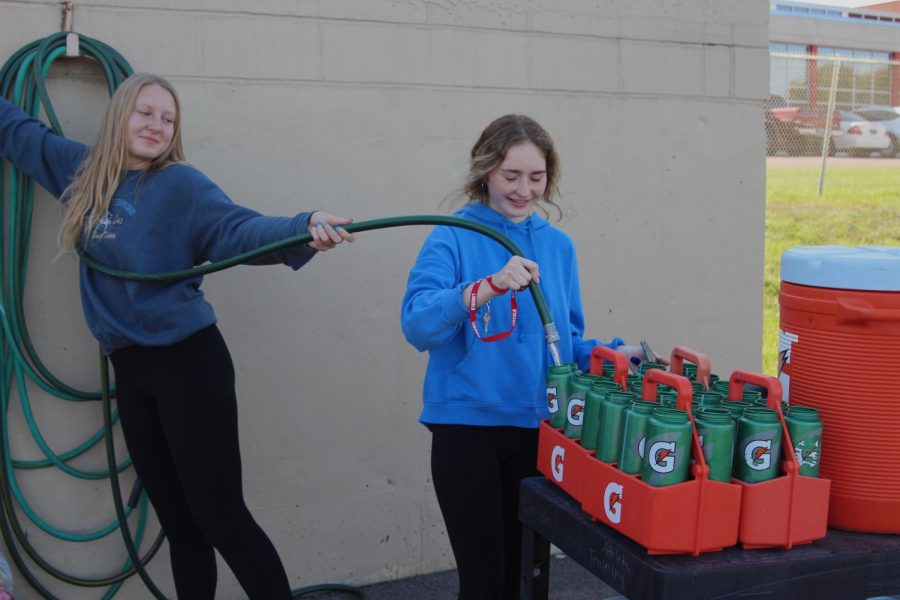 Elana Bishop
The bright lights. The vivid green turf. The profuse and obnoxious smell of sweat. Each parched, wounded and disoriented player seeks for the help of not The Three Stooges, not The Three Musketeers, but the continuous aid of Maddy Bauman, Madyson Lawson, and Statesman Staff Member Allison Kolling. These three provide the assistance to each player's physical and medical needs during practice, and before, during and after each and every game.
Bauman, Lawson and Kolling joined the team as the players' consistent and constant aid out of compassion. Whether that be by passing out their waters or providing assistance when physically needed. Kolling initially reached out to both Bauman and Lawson as an option to fill all the free time they had throughout the fall season.
 "I wasn't in any fall sports and I wanted to find something that I could be a part of while still maintaining and balancing a relationship with my friends," said Kolling. 
Being the social people that they are, the trio had no problem fitting into a group of rowdy teenage boys.
Memories that will never be forgotten were created right on that sideline of Howard Wood field, with the highlight being last year's Hail Mary game. 
"My favorite memory so far was winning against Washington last season when Luke Smith ended the game with a Hail Mary. It was super hype and it was really cute seeing all the boys get so excited," said Bauman. 
The assistance and support was mutual. They provided physical aid, while the boys provided the feeling of comprehensible pressure. They kept the girls on their toes both in practice and the game, but made sure that they knew they were appreciated and treated them like family. 
The determination, the cheering and the constant movement all characterize the stands of the LHS student section. Not even the stressful await of gameday support on the bleachers did not change the minds of these three.
 "I would choose sidelines anyday. You just get a closer view and it's really fun talking to the players and LHS athletic trainer, Katie Lardy. It really makes you feel a part of the game and the team in a way," said Lawson. 
This statement was consistent throughout the other two answers as well. In the minds of these three, the sidelines provided a much more extravagant experience than the stands.
At the end of the day they realize that their original commitment had a much deeper meaning and place in their heart than they expected. The initial plan of a filler for their free time was now the dreadful thought of the days left until it is over. Not only did they gain the experience of shadowing an athletic trainer and providing assistance to players, but they gained a spot on the team, a forever family. Even when they are gone, their memories will never fade.