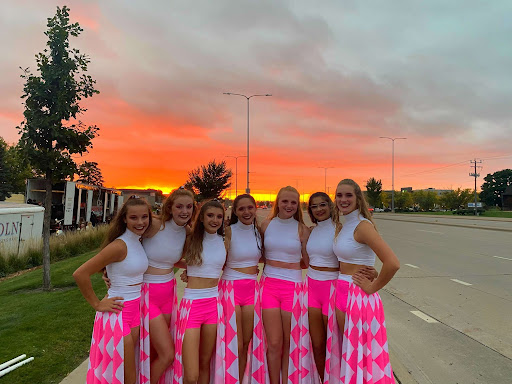 Morgan Gevens
The Festival of Bands, which consists of about 30 marching bands performing and getting scored, took place this past weekend at Howard Wood Field.
The four Sioux Falls public high schools and OGHS host this competition, which excludes all of these schools from placing, but they can still perform in "exhibition" and receive scores for feedback. Other schools come from across the Midwest to compete in the semifinals, potentially finals, and some have a parade performance in the morning. 
"It's a great way for all of the schools in the region to see what other schools are doing and cheer them on in a supportive way," said LHS colorguard senior Tara Gevens.
The Lincoln Marching Band's day started out at 7:45 a.m. by meeting at LHS and then heading over to Terrace Park to be a part of the parade performance with a few of the other schools in the competition. Then LHS stepped out of the parade at about 10 a.m. so they could have a break to eat and get ready for their performance later in the day at HWF around 6:30 p.m. 
"We got back to LHS at 7:45 p.m., so all in all, it was a pretty good and very exhausting 12 hour day," said LHS drumline senior Isaac Shelton. 
Throughout the show there were a few minor prop and music issues, along with a few hiccups from the colorguard in the beginning. However, it still comes as no surprise that LHS had the highest score in this competition, and although they performed in exhibition and could not place first, they could leave the show knowing how well they all did.
"Overall the show felt good. There were things we heard and saw that we needed to fix in order to put on the best show possible for the last two major competitions that we are going to. Just like in every activity there is always problems that happen when you least expect it," said Shelton. 
The Festival of Bands was a perfect opportunity for our marching band to know what to change or touch up going into the next three weeks of marching band season. As all the LHS marching band participants reflect on this past weekend and move forward into the season, this competition helped seal their confidence as they head into the last few weeks.