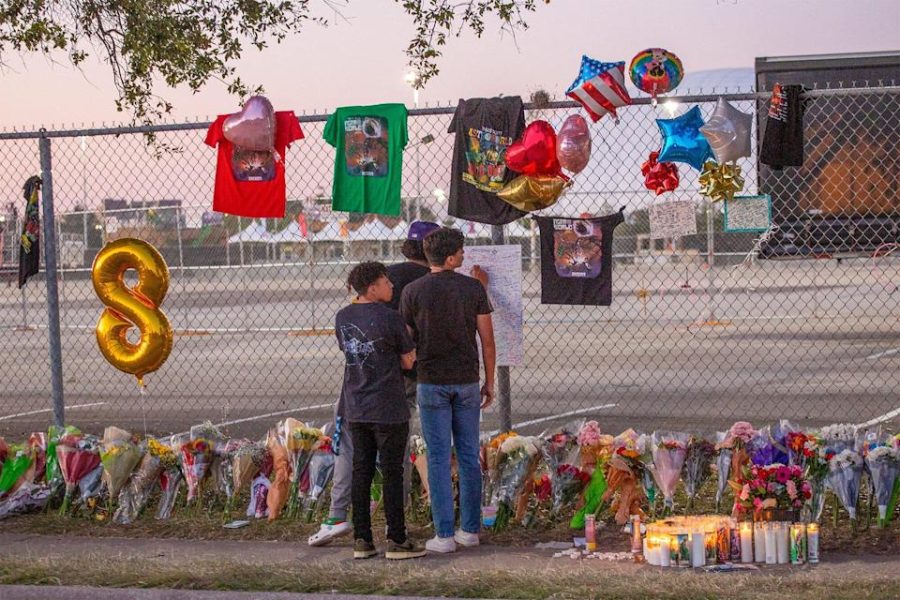 Yahoo Finance
Ribs shoving against steel barricades, screams of horror from all directions, people dropping like flies, only to be trampled under the weight of panicked concert goers. This was the harsh reality for nearly 50,000 as a night that was meant for celebration turned deadly.
Rapper Travis Scott was the headliner and host of the Astroworld Festival in Houston, Texas on Nov. 5, 2021. At this event, eight were killed and nearly 300 were injured, some of which are now fighting for their lives in the ICU. After a night of pure horror displayed through video documentaries from various victims, many are still grappling with the mass chaos that ensued and remaining questions of who was responsible. Scott, known for his history of inciting havoc, has been arrested and sued multiple times for encouraging unsafe behavior at his shows. At a concert in 2017, Scott told the crowd to rush the stage, bypassing security and its barriers. When numerous attendees complied with this request, many were injured and Scott was charged with inciting a riot, disorderly conduct and endangering the welfare of minors. Aware of Scott's previous behavior at events, Houston Police Chief Troy Finner met with Scott and his head of security about his concerns of the safety of the event.
"I expressed my concerns regarding public safety and that in my 31 years of law enforcement experience, I have never seen a time with more challenges facing citizens of all ages, to include a global pandemic and social tension throughout the nation," said Finner through a social media statement.
After a day packed back to back with various artists performing at Astroworld festival, the main event was leading up to Scott's ending performance. Starting at around 8:30 pm, the crowd began to push towards the front barricades, creating a lack of space and mobility as concert-goers began to pack in. After the alleged lack of security training and performance, many believe that it is likely this show was overcrowded.
Due to an overwhelming crowd surge shortly after the show started, many bodies began to hit the floor, only to never again come back up. Panic attacks, cardiac arrest, seizures and being trampled were just a few of the reasons the show became lethal in a matter of minutes.
Mass chaos was in the pit below, while Scott continued to sing and encouraged the crowd to keep the energy high. Chants of "stop the show" became prevalent as many watched as lifeless bodies were crowd surfed and given CPR on the ground beneath them. Regardless of their pleas, the concert kept going.
With the onslaught of this great tragedy, it is inevitable that someone must be held accountable. With the public demanding answers, everyone involved in crafting the event came under fire. As Scott is now facing criminal charges in manslaughter and negligence as well as numerous civil lawsuits, it seems that this lesson of safety and protection at events has come a little too late for so many.
Rest in Peace to:
Mirza Baig, 27, HOU.
Rodolfo Peña, 23, Laredo
Madison Dubiski, 23, Cypress
Franco Patiño, 21, Illinois
Jacob Jurinke, 20, Illinois
John Hilgert, 14, HOU
Axel Acosta Avila, 21, Washington
Brianna Rodriguez, 16, HOU