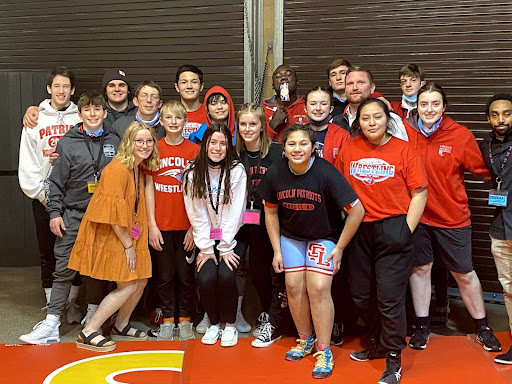 LHS Wrestling
Behind every successful sports team, there are many people working behind the scenes to accomplish everything that is done. In this case, the LHS wrestling team has three managers, Hailey Cisar, Camdyn Ernster and Abbie Hoffman. 
Ernster has grown up around the sport as her dad has been the head wrestling coach at LHS for many years. Cisar's dad also coaches for the youth team and she has brothers who wrestle as well. Being friends with the two coaches' daughters, Hoffman also fit right in. Because of the girls' knowledge and experience around wrestling already, becoming managers was an easy choice.
"I have been a manager for quite a lot of time," said Ernster. "I first started in 7th grade just going with the team and learning from the managers at the time, and I didn't start being a real manager until my 8th grade year. But, I've always been around the team since I was 3-4 years old when my dad started coaching." 
The wrestling season starts in mid-November and ends the last week of February with the State Tournament. At the start of the season the managers first get the wrestlers their bags after they have been sorted with their gear for the season. Practices are filled with duties such as filling waters, cleaning off mats and filling in names/information for the coaches. Tournaments can be very early mornings, the girls getting up close to 4:30 a.m., and being there around 6-8 hours. At tournaments, the managers have to film matches, one of the most important parts of their jobs. 
"The most stressful part of my job would probably be worrying that I am going to miss a wrestling match, not get it on video or it will delete or not upload," said Ernster. 
Outside of the work the managers need to get done, once everything is in place there is also time to have fun and make memories. Not only do the girls get to travel with the team, they go out to eat and get to stay at the hotel. 
 "One of my favorite memories is the 2021 State Tournament when our team went up to Rapid City," said Hoffman. "Being there as a team and getting to support the wrestlers was a fun experience, especially when the matches were very close and one move would determine the rest of the match. Being there to cheer them on and watching the team being excited and happy for one another was one of the best parts."
For the three managers, wrestling ended up being a perfect fit, as they have built relationships and friendships within the team.
"I am so glad I am a manager. It's fun meeting new people and just getting involved in different things," said Cisar.