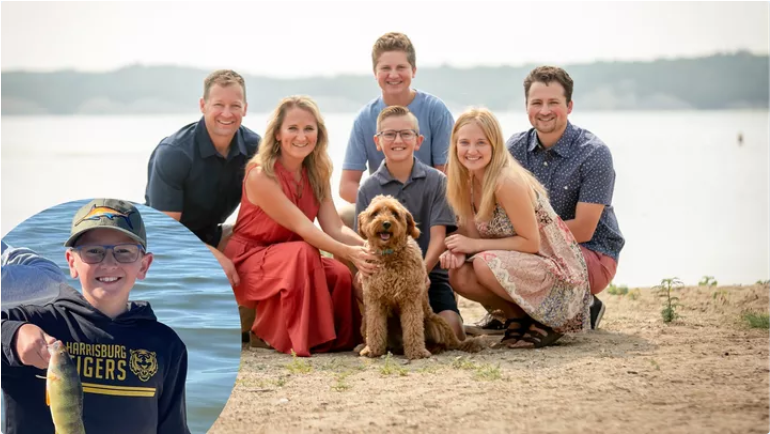 Kiley Noble
On Feb. 17, 2022, The McCoy family experienced the loss of their 11-year-old son, Dane Mccoy. He sadly passed away due to a tragic snowmobile accident. His parents, Jackie and Rob McCoy are devastated by the loss of their son. McCoy was a young boy who was intelligent and loved to spend time with his family. His family included details about his strong passion for all things outdoors. He enjoyed spending quality time with his father and loved to go hunting and fishing with him. 
McCoy looked up to his older siblings, Blake, Reece and Olivia. He loved to be around them and hanging out around the house with them. One of his favorite activities he often did with his family was game night and movie night. He looked forward to seeing his extended family as well; family meant everything to him. 
 McCoy was in sixth grade at Harrisburg Middle School, he was involved with the baseball team and also played soccer for the Dakota Alliance Soccer Club. He had an exciting social life and his friends were very important to him. With him being involved around the city and his school, he also had a huge heart for God. He and his family belonged to St. John Paul, a Catholic parish located in Harrisburg, SD. McCoy felt like God was always watching over him and could fully devote himself to him, it gave him a lot of hope and excitement. 
McCoy had many dreams for the future, one of them included designing Chevy cars and living in the mountains. Besides that he wanted to design cars for Chevy, McCoy wanted to drive a Chevy Colorado when he was able to. A part of his dream included wanting to live in Early, Iowa, which is his mother's hometown. 
McCoy had his life planned out and was taken too soon. There is a Go Fund Me to help his family pay for funeral expenses and give them a little extra support. McCoy had a huge heart and a loving smile that lit up the faces of everyone he was around.
`https://www.gofundme.com/f/dane-wilson-mccoyblessing-the-mccoy-family?utm_medium=referral&utm_source=unknown&utm_campaign=comms_c9sg+dane-wilson-mccoyblessing-the-mccoy-family