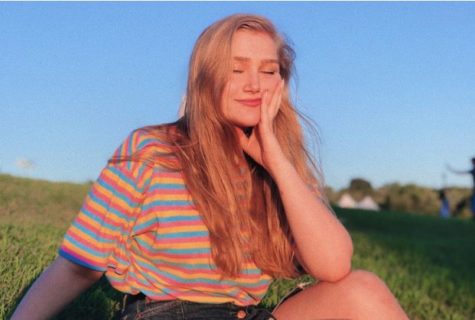 LHS sophomore Mara Fendrich is a first-year staff writer for the
Statesman.
Having an immense love for film, she hopes to incorporate videos for the
Statesman
investigating topics such as LHS' political climate and human trafficking in South Dakota. When she's not being roasted by Slater Dixon or theorizing that Kroeze is faking her family, Mara dedicates her time to choir and ensemble, where she builds her bromances with the other girls.
Mara Fendrich, Staff Writer
May 23, 2019
May 17, 2019
May 13, 2019

Snapshot: LHS photographers through a new lens

(Story)

May 07, 2019

Art and awareness: A look at 'Emily's Hope' and the opioid epidemic

(Story/Media)

Apr 05, 2019

A brimming bloodthirst

(Story)

Mar 29, 2019
Mar 14, 2019

Student Council members: follow up

(Media)

Feb 06, 2019

What came first, the music or the misery?

(Story)

Feb 01, 2019

Men and the media

(Story)

Jan 29, 2019

Is art separate from the artist?

(Story)

Jan 03, 2019

Blue Whale: The internet's deadliest challenge

(Story)

Dec 06, 2018

Diets, distortion and death wishes

(Story)

Nov 13, 2018

Is 'Riverdale' a River-fail?

(Story)

Nov 05, 2018
Oct 25, 2018

Learning to "RISE" above stereotypes

(Story/Media)

Oct 13, 2018

The dark truth behind YouTube kids content

(Story)

Oct 01, 2018

Ask, listen, uninformed

(Story/Media)

May 25, 2018

School ends, chaos begins

(Story)

May 01, 2018

'Black Mirror' and its dark reflection of society

(Story)

Apr 11, 2018

Politics in the classroom

(Story/Media)