Anime body pillows revealed to offer hidden benefits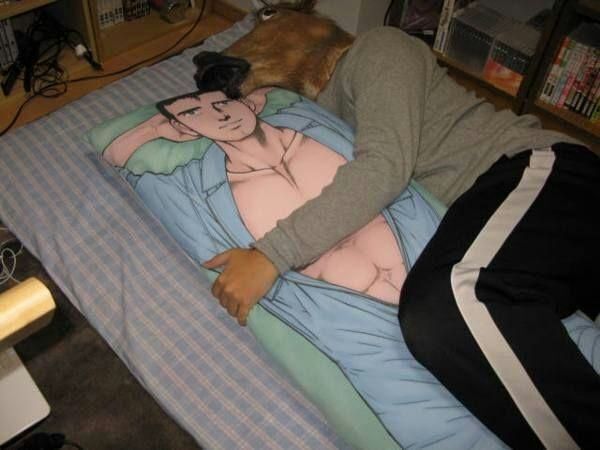 Hang on for a minute...we're trying to find some more stories you might like.
Imagine a strapping young lad named Jake. Jake has big muscles and a handsome face but he gets very nervous around women. What can Jake do?
The answer is simple; Jakes needs to get himself an anime body pillow. By getting a body pillow of his own, Jake will be able to practice being around and talking to women. Additionally, Jake can practice his first kiss on the pillow privately to avoid potential embarrassment in front of others. The beauty of the pillow is that no matter what you do to embarrass yourself in front of the it, the pillow will forgive. The pillow always forgives.
Officially known as "dakimakura" in Japan, body pillows themselves were initially created to be extra-large, soulless feather bags. Thankfully, dakimakura and the Japanese Otaku culture began to meld; beginning in the '90s, production of body pillow cases featuring anime boys and girls began to rise in popularity.
Continuing into the '00s, western society took notice and many intelligent anime fans hopped aboard the waifu-train. "In its early days, the majority of custom graphic designs for dakimakura characters were uploaded to and shared via anime-themed websites and communities," said Ru る, a member of the Amino forums. Today, when searching for "anime body pillows," on Amazon, the variety of pillows covers to be had is impressive.
Unfortunately, a negative stereotype has come about regarding possession of and interaction with dakimakura. Many think that because the pillows have the ability to simulate human presence, they are a danger to their owners. However, this could not be farther from the truth because, as we learned with our friend Jake, the pillow serves to complement one's social life, not replace it.
For those already with a body pillow of their own, consider participating in "Yome To No Bansan," also known as "Otaku Dates."
"An annual event that takes place in Japan on Christmas Eve… [dakimakura owners] share photographs of themselves enjoying dinner with their favorite anime character known as a 'waifu.' The photographs typically show food placed in front of a monitor or body pillow with the character's likeness on it," said Ru る.
There is nothing more gratifying than eating a 20 piece chicken nugget basket with one's waifu in public. Not only is it a sign of great respect, it is also a major confidence booster.
If my girl and my body pillow are drowning and I can only save one, catch me at my girl's funeral 'cause it's senpai or die, my tomodachi.
Author
Will Howes, Editor-in-Chief
LHS Senior Will "Daily Vlogger Number Two" Howes is a second year staff member and the Online Editor of the Statesman. Founder of Motivational Mondays Club and dedicated boogie master, Will is often stretched like a taffy between his varying responsibilities, imagined or otherwise. At the end of every day, Will is sure to post...