Social media takeover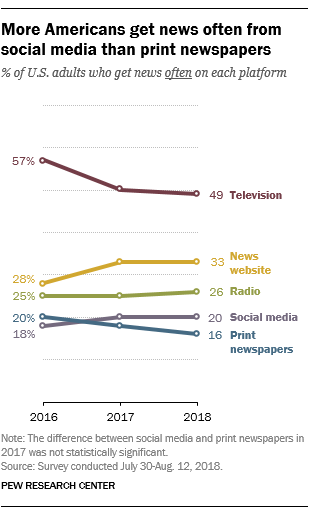 Hang on for a minute...we're trying to find some more stories you might like.
With social media being one of the most controversial and influential forms of conversation available to people, especially teenagers, one might have predicted that online sharing would surpass classic printed newspapers in popularity at some point; now, that day has come.
Printed newspaper has been the public's main source of information on current events since the mid-19th century. Since social media was popularized, generations of people with dissenting views on the distribution of news have debated whether or not social media should, or even could, overtake its physical counterpart. However, according to The Pew Research Center, a survey conducted through 2018 suggests social media has overtaken printed newspaper in popularity. Above those are the radio, news websites and TV, which remains the most used outlet for American's news-related needs. Printed newspaper has dropped to the least used among media sources for all ages. TV remains favored among older people while social media is especially liked by younger consumers. This small step could be the giant leap out of the paper era modern Americans have been waiting for. While printed newspaper does have its perks, for example being a physical copy of information, gluing the author to it without the giving them the convenience of a quick edit online after it has been  published, printed newspaper also costs money to subscribe to. Online sources offer nearly the same material for free. Online sources are easily accessible to most Americans looking into current events. At the same time, online articles do not usually contain the same quality or even quantity of material that physical articles do. It is clear Americans are weighing these pros and cons and choosing the media and news websites over printed newspapers.
However, with the exponentially-growing popularity of social media as a sole window into current news, it is important to recognize that bias within the media is amplified when only certain news sources are available. For example, some satirical articles that would initially be properly disclaimed can show up on news feeds through social media as real news, a problem that has started several moments of heated argument for no real reason. With the spread of online popularity, the world must adapt to the differences online sharing has to real-life.
Author
Sophia Boyt, Staff Writer
Sophia Boyt is a sophomore and a newer introduction to the Statesman. She enjoys writing and participates in LHS's volleyball team and debate club. In...