Oddly, it's not hard to love "Lover"
August 29, 2019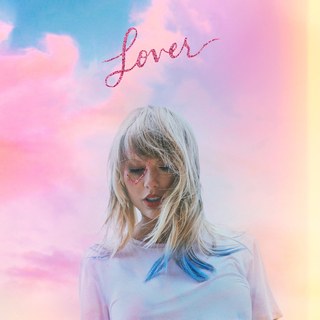 Provided by Republic Records and Taylor Swift Productions
Just two years off her last project, Taylor Swift eases back onto the scene with a decidedly new aura and new sound with her seventh studio album, "Lover."
It comes without saying: Swift is an icon of this era; six of her seven albums have topped the Billboard 200 albums chart the week of their release and she has sold over 50 million records worldwide. Though fame has not come without its blows, Swift does not focus on it in this album as opposed to her most recent work, "reputation." Instead, this album offers a swift revert to the "synth-pop glitter of 1989." The 29-year-old songstress returns to new variations of high-school-type romance, shiny classic-Hollywood moments and bubbly millennial pop, all of which she is more accustomed to.
"Lover" is a long listen, coming in at roughly an hour and two minutes. What is surprising is the country-style sound of most of the verses on this album. Then, without abusing the ears, the pulse of electronic sounds and vocals fill the choruses. It is reminiscent of Kacey Musgraves's country-pop blending, especially in remaining more chill than either mainstream country or pop. At the same time, lyrically, this album is no less dramatic than any of her previous work. The collection of these elements is what piqued my interest enough to make it through the full package.
Admittedly, I am not a fan of Swift as a public figure. The artist is no stranger to problematic statements and random controversies. Even this album couldn't come into the world without its share of frustrations. "You Need to Calm Down" was released as a single for Pride Month, and despite its catchy beat and enticing harmonies, still brought on a debate about ally-ship.
"The entire song, indeed, subsumes queerness into Swift's narratives," writes Spencer Kornhaber for The Atlantic. "Its breathtaking argument: that famous people are persecuted in a way meaningfully comparable to queer people."
Compounding the problem, the music video lacked nuance in any form. Packed with celebrities, both those who are LGBTQ+ and those not alike, the video is trailer-park-summer chic so as to ground her in philanthropy, not just celebrity. Yet, the depiction of protesters against them was a ragtag assemblage of toothless "hillbillies." It is undeniably classist and dismissive of the kind of hate propagated just as readily (if not, even more) by the rich.
But, despite all this, Swift's album is remarkably listenable. At first, I found that confusing.
Anna Gaca, an associate editor for Pitchfork, offers her explanation of the reason for the affability of "Lover."
"Because Swift is better when she's learning than when she's trying to teach us a lesson, Lover's garish lead singles contribute to the strain," said Gaca. "["ME!," another promotional single] still sounds like a musical number taken out of context, just unearned celebratory fanfare without plot or character development, so dead-eyed it's spooky."
Gaca also notes that Swift is no ground-breaker. Her sound, while new for her, capitalizes on styles that Rihanna and Robyn, for example, crafted to be fresh. Indeed, Swift never claims to have birthed a sub-genre, but she never publicly credits the people her music is most definitely influenced by.
It really is not hard to love "Lover," and that is O.K.: it is enjoyable and breezy. We just should not pretend that it is doing anything revolutionary.