'Always and Forever' comes to an end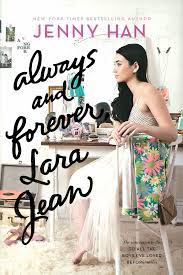 The highly anticipated sequel to "All The Boys I've Loved Before," "To all The Boys: Always and Forever" is here, kicking off some of 2021's newest movie releases with a bang.
For those still unsure of the semi lackluster Netflix original movies that always seem to fall short, check out the final installment in the "To All the Boys" series, the third and concluding movie of the series. Of course, the movie stays on-trend with other Netflix originals, a classic teen romance filled with drama, heartache and coming of age, however, includes a lot of advice young adults might find benevolent in their own lives. 
When the first "To All the Boys" film was released an immediate wave of popularity emerged; the cheesy romance movie sparking heaps of recognition and gaining a fan base quickly. The movie was also highly awaited as it marked the film adaptation of the highly acclaimed book series "To All the Boys I've Loved Before" written by Jenny Han. Fans were pleased when the movies released stayed true to the original book with only a few minor changes. 
Throughout the three movies, we follow the main character Lara Jean throughout her high school years, maneuvering through mean girls, school drama and a complicated love story full of unique characters audiences are sure to fall in love with and jam-packed with love triangles. The "To All the Boys" series was an homage to teen romance paying due to all the tacky young adult romance novels to indulge in every once in a while. Although some may stray away from such a movie, I recommend taking a chance on this series.
Lara Jean's storyline progresses immensely in the third movie, focusing on the approaching future that so many high schoolers can relate to. Complete with a family trip to Seoul, South Korea, a future stepmother and more drama with her main love interest and boyfriend Peter Kavinski, this film does not lack in excitement. The movie is heavily based on Lara Jean's decisions for the future and all the complications that go along with growing up. 
For those looking to sit back and relax, watch a semi-corny with an everlasting uplifting message, check out the new installment of "To All the Boys I've Loved" before, a solid film depicting real-life issues many can connect with and take advice from. All together "To all The Boys: Always and Forever" proves to be an enjoyable watch with a drama-filled storyline sure to keep audiences interested.