The Grammys 2021 Best Dressed Celebrities
2021 marks the 63rd year of the Grammys awards show. From country music to rap, the Recording Academy awards artists from a variety of different genres. Due to the ongoing pandemic, the Grammys was not its usual affair, with a smaller crowd and many COVID-19 restrictions. However, this did not stop the select few in attendance from dressing for the occasion. Styled in various designer brands, the red carpet was overflowing with the latest and most expensive fashion trends.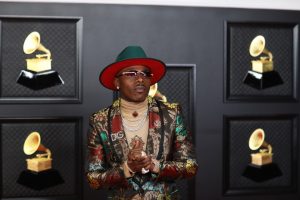 DaBaby was styled fully in Dolce & Gabbana, complete with a beige turtleneck and a floral patterned suit. DaBaby tied the outfit together with a red and green hat, a collection of jewelry and green loafers.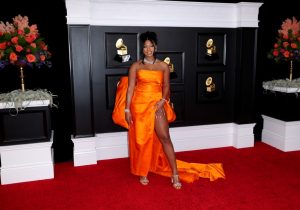 Megan Thee Stallion made a statement in her bright orange dress from Dolce & Gabbana. Alongside her elegant gown, Megan sported long acrylic nails, various diamond accessories and heels to elevate the style. With the neon color palette and unique style of dress, she outdid many of her fellow attendees.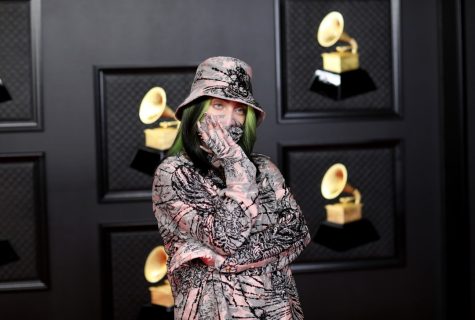 Billie Eilish showed up styled in a full Gucci outfit. The ensemble was entirely patterned with tiger stripes and pink undertones. Eilish's matching gloves, bucket hat and mask pull the look together, ultimately, making her outfit one of the best of the night.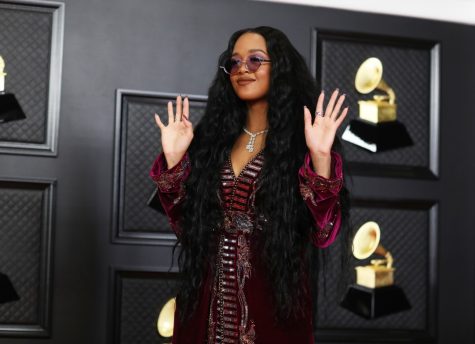 Singer-songwriter H.E.R. dressed to impress on the red carpet, sporting a full 2021 Dundas collection look. Dressed from head to toe in a beautiful burgundy color and a striped pattern, H.E.R. accessorized with silver jewelry, acrylic nails and tinted glasses to follow the same burgundy color scheme. 
Songwriter and 2021 Grammy award winner Dua Lipa walked the red carpet in a silver gown with accents of pink and blue from Atelier Versace. Custom made for the occasion, her dress resembled a pastel butterfly, matching her similarly patterned acrylic nails. In addition, she wore silver bracelets and heels to complete the look.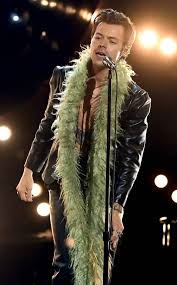 The opening act, Harry Styles, was serving looks with his high-waisted leather pants and matching leather suit jacket, but this was not his only outfit. Styles' wardrobe for the night consisted of three different custom Gucci outfits, but his performance look was a fan-favorite. Styles pulled this look together with a variety of rings, a Gucci necklace and the highlight of the outfit: an olive green feather boa. 
Author
Sarah Bomhoff, Staff Writer
LHS Sophomore Sarah Bomhoff is a first-year staff writer for Statesman. Outside of school, Bomhoff spends her time at volleyball practice, volunteering...