Did someone say block party?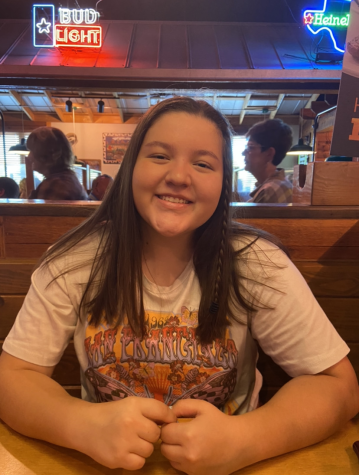 More stories from Zoe Larson
One of LHS' very own athletes is making history this year by having the highest number of blocks in the entire state of South Dakota.
 Standing at 6'1", Jazz Kutey is a middle hitter for the LHS varsity volleyball team. Kutey is currently a junior, but her interest in volleyball started at a far younger age.
"I started playing volleyball in third grade. I played [for] EmBe and I have done it every year since," said Kutey.
EmBe is a common starting ground for kids to get acquainted with volleyball and for Kutey, it was the first place that started her love for the sport. As time went on, Kutey started improving in her skills, and by the time she was a junior, she had earned herself a spot on the varsity team. One of those skills is the ability to block the ball before it lands on LHS' side of the court, and that skill has led her to the top of the statistics list for South Dakota.
According to MaxPreps, Kutey has 128 blocks so far this season, which puts her in first place throughout the state, along with having a .415 hitting percentage, putting her in second place for that category.
Kutey, along with some others on the varsity team, are on top of the stats list, a level of competitiveness which warrants a large audience. At LHS' volleyball games, dozens of spectators come to watch the team play, and with so many people watching, it is unsurprising that the players get nervous. For Kutey, being in the spotlight has made her play better.
"It has made me more confident because when I first started, I was not really outgoing," said Kutey. "But being in front of a big crowd has improved my confidence because everyone is watching me." 
Kutey is grateful for the opportunities she has been given, and is glad to be spending them with her teammates. The team has won 17 games this year out of the 26 total so far, and within these three short months that they have played together, the team has grown closer.
"We are doing overall really good; in the beginning of the season we did not really know each other, but throughout this year, we have had a lot of time to connect and spend time together," said Kutey. "Our relationship [as a team] has gotten stronger and we have connected more." 
"
Our relationship [as a team] has gotten stronger and we have connected more."
— Jazz Kutey
Team dinners, long practices and lengthy bus rides are just some of the things that bring these athletes closer together. The volleyball program as a whole has been made stronger through the connections and the admirable friendships the team has formed with each other. Despite being so close with her teammates, Kutey still has her struggles and is not always the easygoing person she appears to be. 
"I would say just being there mentally [is the most difficult], because it is hard when you are not doing your best," said Kutey. "I would say [one of the hardest things about being on the varsity team is losing] sleep because we go to different states and towns and we always get back late."
The life of a student athlete can appear to be glamorous and thrilling on the outside, but in reality, that is not always true. Regardless of the challenges that being a student athlete entails, it has made Kutey made a better person. 
Kutey is undeniably an athlete to be watched this next year, and it will be exciting to see how far her hard work takes her.
Leave a Comment
Author
Zoe Larson, Staff Writer
Zoe Larson is a junior,  first-year staff writer for the Statesman. When Larson is not being 'extremely productive' in class, you can find her in...