Dr. Mondon: LHS' newest linguistics enthusiast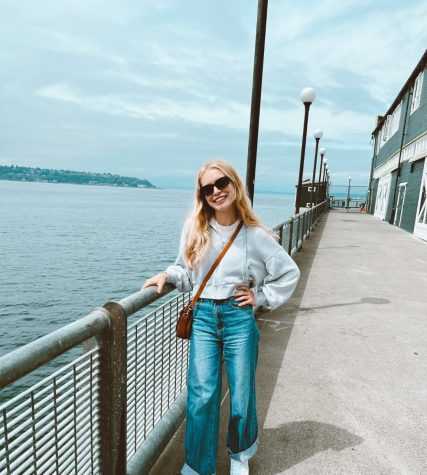 More stories from Clare Heupel
The start of this school year brought along a new edition to the team of teachers for the LHS foreign language department; Dr. Jean-Francois Mondon is at LHS not just to teach Latin, but to leave a positive impact on his students' educational experience.
Mondon was born and raised in the suburbs of Philadelphia, Pennsylvania. As a kid, Mondon had several interests, one of which happened to be languages, which he picked up while only in fifth grade. Later in high school, despite hating English as a subject, Mondon had a fondness for Latin after studying it for two years.
"I liked Latin because it explained grammar to me in a way that made a lot of sense," said Mondon.
After high school, Mondon was attracted to the University of Pennsylvania for college because of its strong linguistics program. He studied linguistics because of his curiosity for learning about history, for his interest in multiple languages such as German and French and for learning about how those languages have evolved over time. Mondon received his bachelor's degree in linguistics and followed this with a masters degree and a Ph.D.
Since finishing graduate school, Mondon has had a variety of teaching positions. He first taught at a high school in Northern Pennsylvania for a year, during which he also commuted to teach at multiple different colleges in the Philadelphia region, in subjects such as basic linguistics and old English. Mondon then moved to Minot, North Dakota where he continued teaching college linguistic courses while simultaneously working on publishing some of his own written work. During those 12 years in Minot, he published several books on different languages, including one on classical Armenian, three on Latin and his most recent one on Middle Welsh. Mondon has continued his writing career with several published academic articles on Celtic languages and with more works on the way.
While Mondon has enjoyed working with college students and other professors, he still finds appreciation for the straightforward nature of high school students that he has been exposed to while teaching at LHS.
"I like how high school students tell you exactly how they feel. College students are very hard to get any emotion out of," said Mondon. " …you get immediate feedback about whether what you are doing is reaching the students or not."
  This observation of Mondon is just one example of how he uses every experience as a learning opportunity.
"A lot of the things I've learned while working here [at LHS] made me realize that I should have been doing them [activities] while I was teaching at college," said Mondon.
If the weather is nice, Mondon can be found running or biking on the various trails and well-paved roads that Sioux Falls offers, a luxury he did not have while in Minot. On other days with nice weather he keeps up with his many languages by studying flashcards on his phone while going on a walk. Although he mainly studies linguistics, Mondon frequently engages in learning about various areas of study if they pique his interest.
"Now that I'm at a high school and I have students who are studying in my class for other subjects, I almost want to go back and learn about those subjects," said Mondon. "I've actually started checking textbooks out at the library just so I can read up on those subjects."
Most of Mondon's students are aware of one of his most passionate past-time activities and conversation topics: stocks. Mondon was introduced to stocks when his brother told him about them 15 years ago. Though he did not have an initial interest in them, during the pandemic, Mondon invested in a few stocks of his own and eventually discovered the appeal of owning and trading them. LHS Senior and AP Latin student Mia Wentzel can attest to Mondon's eagerness to talk about his stocks and the stock market in general with his students.
"He is very into stocks, and he lets us know how the stock market is doing every single day," said Wentzel.
Mondon's love of stocks led to his creation of a stocks club at LHS for any students who also have a curiosity for learning about the world that is the stock market.
As a chairperson of multiple committees while at the University of Pennsylvania, Mondon has found that creating good connections with people is one of the most important actions that one can take in a career like his. Because of how diverse the personalities and backgrounds of college students and professors are, he believes that to do this, it is important to find a middle ground with others.
"I think that the most important thing is to get rid of your preconceived notions of people and try to understand where they are coming from, " said Mondon.
Not only has he applied this mindset to working at colleges, but he has also tried to use it while working at LHS.
"I understand that students in my class don't really want to learn Latin per se, they are only in this class because they think it might be easier than other languages," said Mondon. "I just try to work with them to try to find something interesting in Latin that they can apply to their own life."
Whether he is teaching a Latin grammar lesson or giving his daily stock update, Mondon makes it a priority to ensure that his students can get something out of his class that is beneficial to them.
"My most important thing as a teacher is that students learn something about themselves or they just have a positive experience," said Mondon.
Leave a Comment
Author
Clare Heupel, Perspectives Editor
Clare Heupel is a senior, second-year staff member and perspectives editor for the Statesman. Other than writing and editing stories, at school Heupel...