LHS JAG: Preparing for success
For the first time last year, the Sioux Falls School district adopted a half credit class where students in high school learn about the outside work environment. This helps young people succeed in both school and job paths that turn into rewarding careers. As they work with trained specialists, students improve in education and working skills through Jobs of Americas Graduates, known as JAG.
Offered district-wide to students, JAG takes on its first year at LHS. Tiffany Svennes is the teacher behind the JAG program.
"The goal of JAG is to give students who may not have the opportunity otherwise to have the individual and direct job and leadership skill training," said Svennes.
From Denver, CO, Svennes continues her job at LHS working with alternative education for her eighth year.
"When I first got here, they wanted me and Annie Lanning to start the Patriot Post, which is what we do now. It's more of a recovery, academic retention program that helps students catch up on credits," said Svennes. "JAG came along this year because the district adopted it district wide. RHS had the first JAG, and last year was their first year and now all schools have JAG. JAG stands for jobs of America's Graduates, and it's actually a state-sponsored program, so it's sponsored by the Department of Education for the state of South Dakota."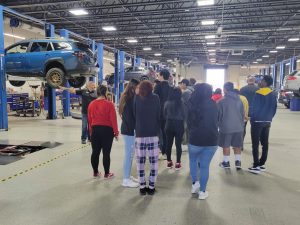 (Used with Permission by Tiffany Svennes) JAG focuses on involvement from students who are not always given the opportunity or cannot receive the opportunity to learn those certain leadership and development skills that are needed when it comes to having a successful career.
"The counselors and I kind of look through different students and pick students based on if we think they'd be interested and if they'd benefit from it," said Svennes. "The JAG motto for student participation is they have to commit to it and they have to be able to benefit from it. If students are already involved in, let's say, HOSA, or other clubs that are giving them exposure to job opportunities, JAG might not be the best option for them."
JAG students learn about the work environment and experience the workforce firsthand by visiting different companies and businesses. They learn about a variety of different careers people have and what it takes to achieve it.
"My favorite part about JAG is going to visit all the businesses and seeing how they're run," said LHS senior Jahnessah Rondell. "We got to go to Subaru for one trip and got to learn about all the different parts going into making cars and what kind of degree someone needs and who needs to go to college for what. We've gone on a field trip once a week this month and we get to participate in the Parade of Lights."
Going to different work environments assist graduates with job opportunities and post-secondary education. The program walks students through financial aid that will help them pursue the different degrees they need for their next step in education.
"We give assignments on a variety of job skills," said Svennes. "They practice interviewing and dress. We take a variety of trips around to explore businesses and do reflections on those, email writing, all of the business type skills that you would need to know going into the workforce. We visit colleges so they are getting exposure to those and leadership skills. JAG is mostly focused on getting students involved in service learning and getting them involved in the community as well as getting to plan service projects."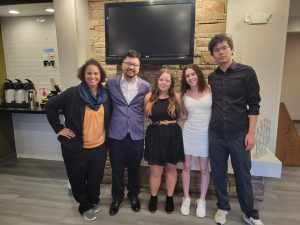 These young adults learn and grow through what JAG as they plan for their future ahead.
"JAG teaches us leadership skills and other skills that we can use in the outside world," said LHS senior and JAG student, Andrew Khanthvoing "We can use leadership when it comes to a job. I enjoy the traveling part of JAG. Just today we got to go to Dakota Abilities to learn how to help people with disabilities. They try to have 16-18 people help with them but you have to be 18 years or older with a high school diploma to join it. The most I've benefited from JAG is talking to new people and getting to visit all the businesses."
Leave a Comment
Author
Raina Marty, Staff Writer
Raina Marty is a senior, second-year staff writer for the Statesman. When she is not writing, you can find her cheering, dancing, getting coffee or at...