Cruelty conscious companies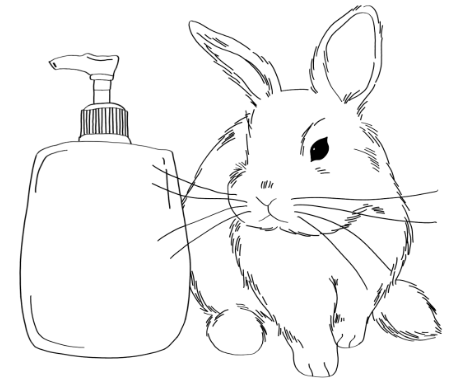 With many products trending at the moment, many people forget that there are many brands out there that test on animals. Here is all you need to know about PETA and approved products.
First off, what is PETA? PETA stands for People for the Ethical Treatment of Animals. PETA "exposes animals suffering in laboratories, in the food industry, in the clothing trade and in the entertainment industry," according peta.org. Animal testing is an issue that is not talked about enough, which means many people don't know what it really is. Animal testing consists of chemicals being dropped into eyes, injected into bodies, forced up nostrils or forced down creatures' throats. These animals, which are mostly rodents, are addicted to drugs, forced to inhale/ingest toxic substances, subjected to maternal deprivation, deafened, blinded, burned, stapled and infected with disease viruses, according to Downtoearth.org. 
What is most important is that we can identify these companies and support new brands that do not test on animals. Just a small list of a few of the popular testing brands are L'Oreal, Estee Lauder, Procter & Gamble, Clorox, Johnson & Johnson, S.C. Johnson, Colgate-Palmolive, Reckitt Benckiser, Church & Dwight, Unilever and Henkel. Some of these brands you may not recognize, but these are the parent companies. For example Reckitt Benckiser is the parent company to brands like Lysol, AirWick, Clearasil and Mucinex. Procter & Gamble is known for an abnormal amount of products, this list including Luvs, Pampers, Bounce, Downy, Tide, Gain, Bounty, Charmin, Puffs, Always, Tampax, Gillette, Head and Shoulders, Pantene, Old Spice, Dawn, Cascade, Febreze, Mr.Clean, Swiffer, Crest, Oral-B, Scope, Pepto Bismol, Vicks, Olay and Secret. This is a large list of products with a large amount of support under a company that tests on animals. Unilever represents Dove, Axe, Olly, Vaseline, Liquid I.V. and Rexona. Henkel owns Dial, Schwarzkopf, Joico, Snuggle, Kenra and SexyHair. 
Just because there is a product that is not on that list, does not mean you are completely in the clear. Animal testing is very normalized and even though some of the brands on the list may not animal test directly, their parent corporation does. That is why it is important to do your research when looking for a good brand to support.
To make it easier, here are a few brands that are good to support, according to Ulta.com's list of conscious beauty brands: The Ordinary, Fenty Beauty, Billie Eilish Fragrance, Anastasia Beverly Hills, Colourpop, BareMinerals, Bliss, Briogeo, Burt's Bees, Chi, Curlsmith, Dermalogica, Drunk Elephant, Eva NYC, Florence by Mills, Garnier, Good Molecules, IGK, Kopari, Moon, NYX, Olaplex, Ouai, Pacifica, Peach and Lily, SheaMoisture, Smashbox, Sugarbearhair, Sun Bum, Sunday Riley, Supergoop, Tanologist, Tarte, TONYMOLY, Too Faced, Tula, Urban Decay and Verb. These are many great options to replace a few of the beauty products you use that may not be cruelty free. For more day to day products, here are a few options. Cleaning products could be replaced with Method, pure castile soap, or Mrs. Meyers brands. For feminine products, you could support Seventh Generation or The Honey Pot. Hygiene products could be switched to Pacifica, Yes To, Alba Botanica, Bath and Body Works, Tom's of Maine and The Honest Company. There are many options to go cruelty free and most are sold in stores near you including both Target and Walmart stores.
In conclusion, animal cruelty is hidden behind many of the products we use today so it is important to be cautious and do your research. When trying to resolve the issue of animal testing, supporting PETA approved and cruelty free products is an easy effort.