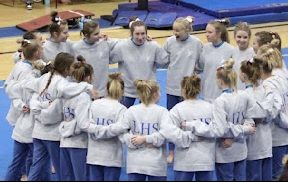 In 2023, a sport loved by many will not be returning. With gymnastics leaving the Sioux Falls School District, what are the plans for the now unoccupied room?
As of July 1, 2023 the Sioux Falls School District made the decision to permanently remove gymnastics . This change will cause gymnastics athletes to not be able to participate in the sport that they love for their school anymore. With the gymnastics room becoming unoccupied this school year, the new uses for it will vary.
 "The space will be used for activities that need extra space or for classes that need more space for a day," said activities director David Maxwell.
 For many sports like tennis, golf and softball, this space can now give those teams more  availability for offseason practices or weather cancellations. This space also provides clubs a space to meet, as more and more students become involved.
"We have to think about how we can use the space to serve our students the best we can," said Maxwell. 
With this new space being used by all LHS students, this could be a way for students to bond and for athletes to improve their game.
"In the short term and the rest of the school year, it is going to be a multipurpose facility," said Maxwell.
 With many LHS families excited for the new change, the former gymnasts have different perspectives on the new use for their old gym. 
"Since the room has always been used for a sport, I feel like there should still be a sport in there, like off-season baseball or softball," said junior Lucy Pederson.
"The changes are not justified because there are already enough classrooms for kids to learn in, so these changes won't help that much," said junior Sarina Walpole.  
With the removal of gymnastics, many former gymnasts will be finding new activities, clubs and sports to join. 
" I might be the wrestling manager just so I can stay busy during the winter and I also joined the cheer team," said Pederson. 
Many of the former gymnasts have joined teams that have the same components as gymnastics.
" I tried to find an activity closest to gymnastics, so I resorted to the dance team!" said Walpole.
As for now, the gymnastics room is turning into a multipurpose room to help students, staff and athletes. Many athletes will be able to get more resources for practice, and students and staff will have an extra room for classes. But, the future plans of if the room will be renovated or turned into something completely different is still unknown.