He is the guy with the smile on his face 99% of the time. He is the guy who greets everyone he sees. He is the guy who makes everyone feel comfortable, safe, welcomed, important and seen. He is Bob, SpongeBob, Officer Bob, Mr. Draeger, the other guy and luckily for LHS, he is back yet again.
Robert Draeger cannot get enough of LHS. Draeger graduated from LHS back in 1990, then went to college and became a police officer. He spent several years being a police officer, and then made his return to LHS to fill one of the roles of the school resource officers. During his 10 years at LHS, Draeger made his name known to both students and staff for being a positive, helpful and kind guy. Last year he announced his retirement from the police department, and started to look for something that was worth his while. Luckily for him and the school, there was a job opening as a behavior facilitator at LHS.
It takes a lot to be around teenagers, with their big personalities, loud voices, stubbornness and all the other factors they can bring. For many this job could be very overwhelming and stressful; however, Draeger enjoys the challenges his job brings. Draeger's favorite part is being an open ear for kids to vent to him in times of need. Draeger's job is to help teachers look at students who need help and work with kids who are having behaviors and who are not functioning well in the classroom.
"I hope they think I'm an okay person they can trust, if they have a problem, come talk to me. My job is to keep kids out of trouble. I've got 2 kids of my own; I'm sorta your dad at school," said Draeger.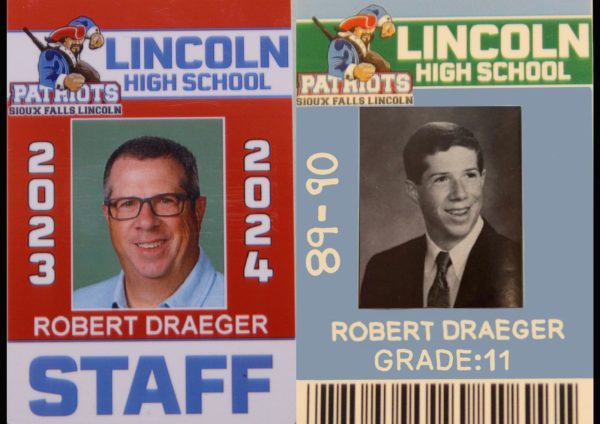 Draeger takes a lot of pride with the fact that students can trust him. Students know that if they have a problem, they can always go talk to him. From being a cop to now a behavior teacher, Draeger has found that the jobs are pretty similar. The transition has been easy for Draeger, he has a big advantage, due to the fact that he is in the same place around the same people.
"So far it's been great. The people I work for are fantastic, my boss, Mr. Lynch and Dr. Raeder are great. The teacher I'm working for, Mr. Gosmire, has been helping me out. He actually had this job prior to this, so he's been helping me with things to do and tactics to use," said Draeger.
Being only 51, Draeger hopes to keep working for another 14 to 15 years. He hopes he is still here at LHS as long as he still continues to love it. LHS is proud to have Draeger here all the time. LHS would definitely not be the same without him.