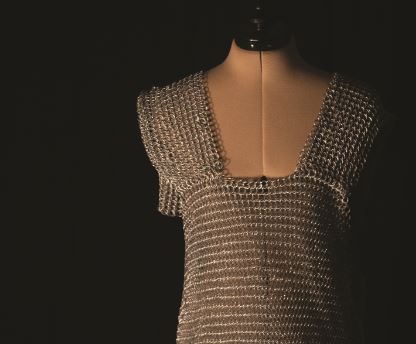 One year, 365 days or 525,600 minutes later, a chainmail hauberk shirt has been made. Chainmail shirts were worn to protect knights from bruises and other injuries during fights in the 14th century. Our own LHS custodian, Chris Moneke, has been making these shirts ever since college, to complete his costuming class. It all started out as part of his college degree, but now it is a hobby that he continues in his free time.
Chainmail hauberk vests and shirts came into use during the 14th century; they were originally used as a protective barrier between the enemy and offered protection for one's chest, arms and upper legs. They were typically worn underneath several other layers of armor and clothing. The average chainmail shirt weighs around 70 to 90 pounds, so a knight would be wearing over 100 pounds of chainmail to protect them from wounds. Nowadays, the shirts are simply used as a fashion accessory to show off one's hard work and dedication to making the shirts.
Moneke's first shirt that he made was for a costuming class, and his friends were so impressed that he ended up making more. The shirts are made to protect the wearer from being hit by swords and other weapons.
"The armor I have made has been just for decoration but is still somewhat functional. The first shirt I made for a friend was tested out within minutes of receiving it. He had another friend of ours hit him with a sword a few times. He said he barely felt it," said Moneke.
This proves that his work of art would have been very useful and honored during the 12th and 14th centuries.
Unfortunately, the process of making a shirt takes an incredible amount of patience and time. To make the armor, it starts with a very long role of fencing wire.
"I made a jig at home that is attached to my workbench with the spool of wire on one side and a metal dowel with a handle on the other," said Moneke.
Moneke then bends the wire around the metal dowel to create several long springs. The springs then need to be cut to make individual rings. With the individual rings, Moneke has to weave each ring by hand to create a pattern that forms the shape of the shirt.
Chainmail hauberk shirts take extreme dedication and a lengthy amount of time. It is tremendously impressive that our custodian has the talent and ability to make these shirts by hand.