"Jazz was born in a little flophouse in New Orleans… because people were crammed in there, they spoke five different languages, they couldn't talk to each other. The only way they could communicate was with jazz," said Ryan Gosling, who portrayed Sebastian in "La La Land."
During its prime, jazz was revolutionary because of its spontaneity and groove, acting as a bridge to bring different cultures together through their love for music. It was the pop music of the early 20th century. "La La Land," a popular musical released in 2016, romanticizes the intricacies of jazz, such as unique improvisation techniques, as Gosling aims to revive the music genre in the city of Los Angeles. This movie raises questions about the accuracy of the depiction of modern jazz. Does the movie accurately portray the jazz scene in today's society? Is jazz still alive in a Midwest city such as Sioux Falls? 
There is one well-known restaurant that features jazz in Sioux Falls. R Wine Bar features a jazz combo every Thursday night, and hosts an open mic night for local jazz musicians the first Wednesday of every month. In the classy restaurant, the smell of fresh pasta and delicious sauces is overcome by jazz music performers providing a lively atmosphere. Upon further investigation, the restaurant is filled with talented musicians, including several LHS grads.
 "I think if students want a place to play outside of school, this would be a perfect opportunity for them," said one former LHS musician.
 "We mainly do [jazz night] for the community. It's really the only place for us to all come together," said local trumpet player Jim Speirs.
  After experiencing R Wine Bar, it is clear that it is not just another brick building downtown. It is as if the Richardsonian architecture was designed to contain and protect the art form inside, the culture of jazz alive and well in the heart of Sioux Falls. 
Furthermore, jazz is thriving right here at LHS within the three jazz bands directed by Drew Balta and Dan Carlson. The jazz program is different from the current band because it teaches the cats how to play swing, Latin, Bebop and other different forms of jazz. Swing, for example, is different from the music one would hear the LHS marching band playing because of its groovier rhythm. Instead of standard band music often associated with marching, it is the kind of music that makes someone feel like dancing. Miles Broveleit, a tenor saxophone in The Jazz Collective (the top jazz band at LHS) has learned the language of jazz over the past three years and has fallen in love with it.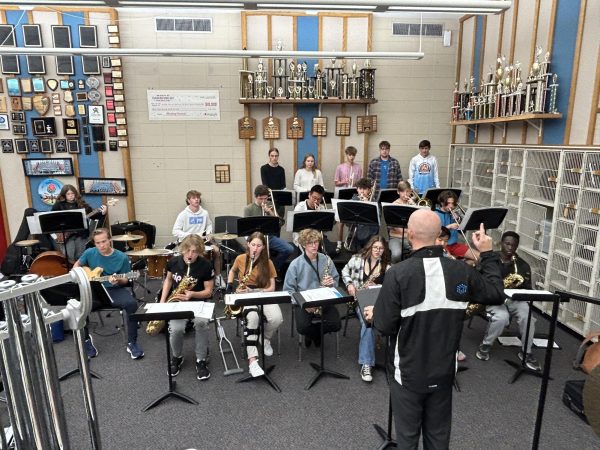 "The ultimate dream would be a career in jazz, even though that might not be the most viable option, I think there could be a career in music education whether it be jazz, or concert band or marching band…I have definitely found my passion," said Broveleit.
"
I think there could be a career in music education whether it be jazz, or concert band or marching band…I have definitely found my passion.
— Miles Broveleit
 If LHS students are interested in taking their jazz skills to the next level, it is very easy to get involved at R Wine Bar on the jazz jam night. All of the songs played are out of the same book called "The Real Book." This book is a collection of many different jazz songs. These songs are accessible to everyone whether they are participating in the jazz jam or jazz clubs around the country. What is interesting is that the book is more of a guideline to what jazz music might sound like, including only the chords and the basic melody. Balta, one of the directors at LHS, emphasizes the importance of listening to examples of the music that one wants to play. Count Basie and Stevie Wonder are popular jazz artists that are important to be familiar with. There are also jazz artists known for specific instruments, including piano prodigy Thelonious Monk, talented trumpet Miles Davis and saxophone specialist John Coltrane. While jazz musicians generally have a positive opinion of the movie "La La Land," many of them do not agree with its representation of jazz as a dying breed of music.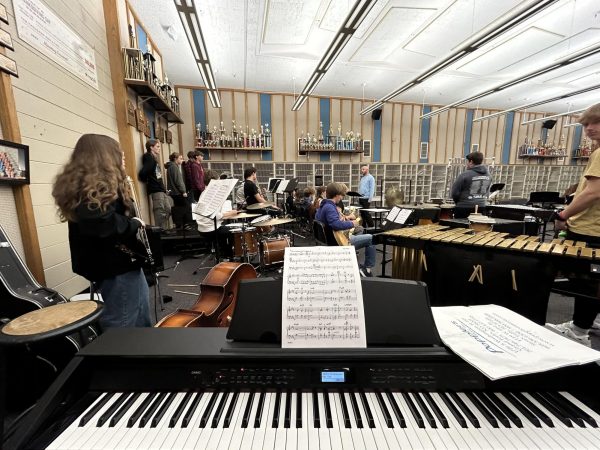 Ultimately, many of the jazz musicians do not see themselves as traditionalists; they love experimenting by trying new rhythms and notes. When an artist comes up with a new lick or method of doing something, talented musicians continually try to replicate and learn the new style. Jazz, though in its rhythm and liveliness seeming like a contemporary invention, is a continuation of the legacy left behind by brilliant artists from the beginning of the development of the genre. This kind of inspiration makes an LHS student wonder what kind of positive impact they might leave for others through expressing their own perspective with music regardless of popularity or genre.