Mattel's 'Barbie' gets a new makeover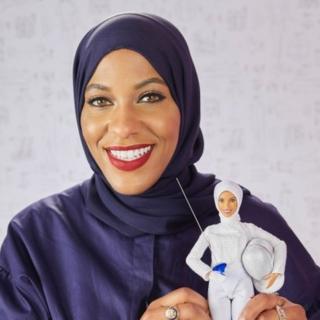 A fresh, modernized new Barbie Doll was released by the toy company Mattel on Monday. The popular toy manufacturer unveiled a new hijab-wearing Barbie doll modeled after Olympic fencer, Ibtihaj Muhammed.
The new doll follows the well-known company's new mission to teach young children to embrace diversity. Barbie and Ken dolls alike have experienced quite the makeover within the past couple of years since the new lines of dolls have been released. With new features such as a wide range of skin tones, hairstyles and body types, Mattel is straying away from the popular blonde haired, blue-eyed, classic figurine that has been a part of the toy scene for more than 50 years. These new features stand to empower young women with representation and encourage them to embrace diversity.
According to Mattel's website, the "Shero" line was "Started by a female entrepreneur and mother, this brand has a responsibility to continue to honor and encourage powerful female role models who are leaving a legacy for the next generation of glass ceiling breakers."
The new lines of diverse dolls have even been promoted and modeled after several celebrities. From Olympians to plus-size models, young children now have a positive role model associated with their doll from the "Shero" line that these dolls are a part of. According to Mattel, a "Shero" is "a female hero who inspires girls by breaking boundaries and expanding possibilities for women everywhere."
Role models include plus-size Ashley Graham, Olympic gymnast Gabby Douglas and prima ballerina Misty Copeland, along with several other women. All of these unique dolls and women stand to teach young girls about the power of women.
The Barbie brand's rejuvenation of the classic doll provides young girls with a positive image of diversity and empowerment. No longer a blonde-haired, blue-eyes clone, but rather a doll that every child can identify with.
Author
Lauren Teller, Staff Writer
Lauren Teller is a junior and second-year Statesman staff member. Aside from her time spent hanging out in the j-lab, Lauren is an active member of the...