LHS boys golf swings for State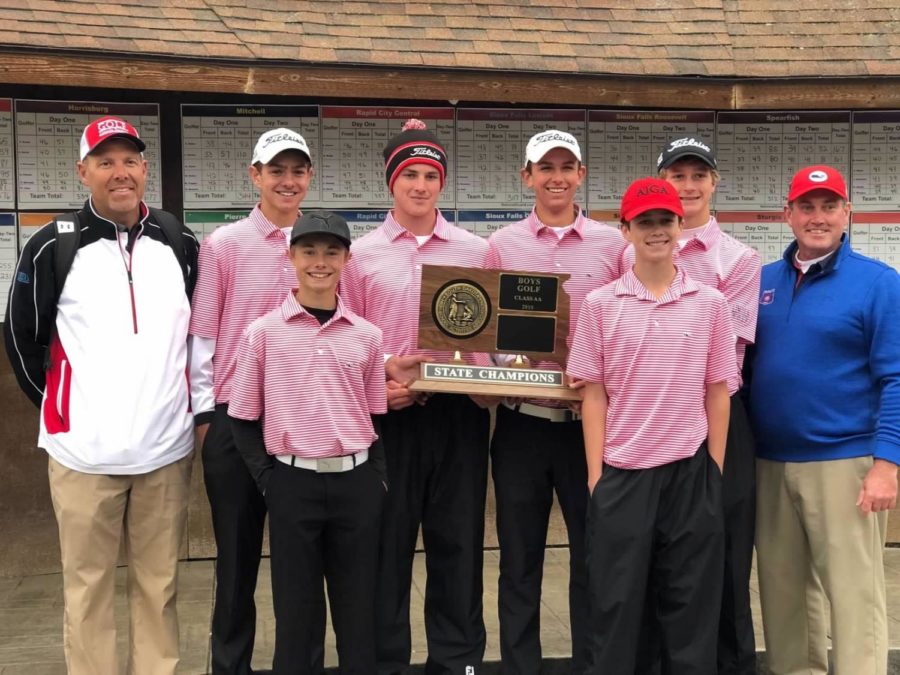 He knew it was close. He knew they were doing well. But what LHS Senior Ryan Neff did not know was that after he put the last ball in on that 18th hole, he had just won LHS the 2018 State AA Boys Golf Championship.
At the state finals, the team consisted of three seniors, Neff, Max Honner and Adam Schrader, as well as sophomore Nash Stenberg, freshman Luke Honner and eighth-grader Jack Hilgenberg. Making a total of 606 strokes the team beat the second place Rapid City Stevens by just four. It is the first LHS boys State golf title since 2012 and sixth overall.
But while the trophies and awards are rewarding, what might be even more so is the journey along the way.
"When you talk about golf being an individual sport, well it's not. It comes to a team, and you gotta be able to get along with each other, and I think these guys are pretty good friends on and off the course," said Coach Halseth.
Halseth has been able to see, the seniors grow since they were freshman and has noticed a change both in their game and in their lives as individuals.
"They're just a great group of guys. Guys that love the game of golf. They're gonna be successful not in just in golf but whatever they choose to do, wherever their future takes them," said Halseth.
Another accomplishment made by the team this year was senior Ryan Neff claiming medalist honors. Having the lowest total amount of shots at 145, he went back-and-forth with second place Adam Salter.
Having played the sport since middle school, he is very satisfied with the way that it has been able to help him as a golfer, as well as a person.
"I think it's really helped me out a lot. I've gotten to meet a lot of good people and a lot of good influences. It's helped me with the work ethic, shows you what you have to do to get better, and if you wanna be the best, you're gonna have to put in a lot of time," said Neff.
He is very content with his career over the year along with his experience in golfing overall. Being able to spend a lot of time with the other guys on the team has been great and really makes the game just that much more enjoyable.
"When you play a round of golf, it's 18 holes and takes like four hours. So if you're out there with friends, you get to really talk to them and have a good time," said Neff.
As far as the future goes, Neff is very excited about where he is heading. Although he has not decided on where he wants to play some college golf; and he is not the only one looking up. Even with the state championship this year, the team is still hoping to improve; and Coach Halseth is eager for where they will go in the future.
"On Varsity there was an eighth-grader, there was a sophomore and there was a freshman. So we think that the future looks pretty good and that Lincoln golf is in good hands," said Halseth.
Author
Caleb Miller, Staff Writer
Caleb is a freshman and first-year staff writer. When he's not working on his next documentary or playing 19th-century hymns on the piano, you can find...