Gymnastics is back and ready for business
Hang on for a minute...we're trying to find some more stories you might like.
Flipping, tumbling and flying through the air are just a few aspects of gymnastics, but there is more to the sport than just the flashy tricks and flips. There are the hard long practices and grueling meets along as well as club gymnastics on the offseason.
"It is going to be good. In the beginning, it is going to be a little rough, because we have a lot of new kids and a lot of big skills they are working on so until they can get those mastered. There might be some falls but that is ok. But I think by the time we get to metro conference, region and state the team will be just fine," said LHS gymnastics coach Les Coin.
Although practice may be tough, this season's going to be worth the wait and hard work. The LHS girls gymnastics team has not won a state championship for 32 years, but LHS gymnastics coach Les Coin assures the rest of LHS this season will be different from the last. Last year the LHS gymnastics team made it to State and placed 2nd to last, which was what they were hoping for last year, but they have their sights set a lot higher for the upcoming season.                        Last year's gymnastics season will soon be far behind this amazing team.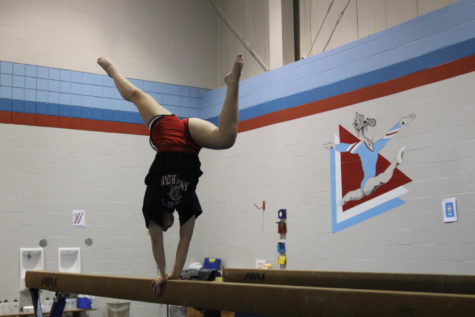 "I actually think we will do a lot better this year. I think we will place higher as a team, and I think some individuals will be placing higher than they did last year too," said Coin.
Almost all of the LHS girls on the gymnastics team are in club. Sports that are played outside of school have a tendency to be less competitive. This is true with almost all sports at Lincoln.
"I would say it [LHS gymnastics] is more fun and it is not as competitive, and there are a lot more girls your age usually so it is a little bit more relaxed than club," said senior Mia Jones.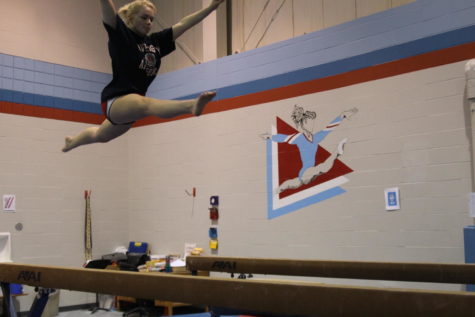 Keep following LHS gymnastics to stay up-to-date on their competitions, meets and how these amazing girls do throughout their season!
Author
Johana Brower, Staff Writer
Johana Brower is a sophomore who is a first-year Statesman writer. She plays varsity tennis and enjoys hanging out in coffee shops and reading books. "There's...