LHS vs. WHS: forever rivals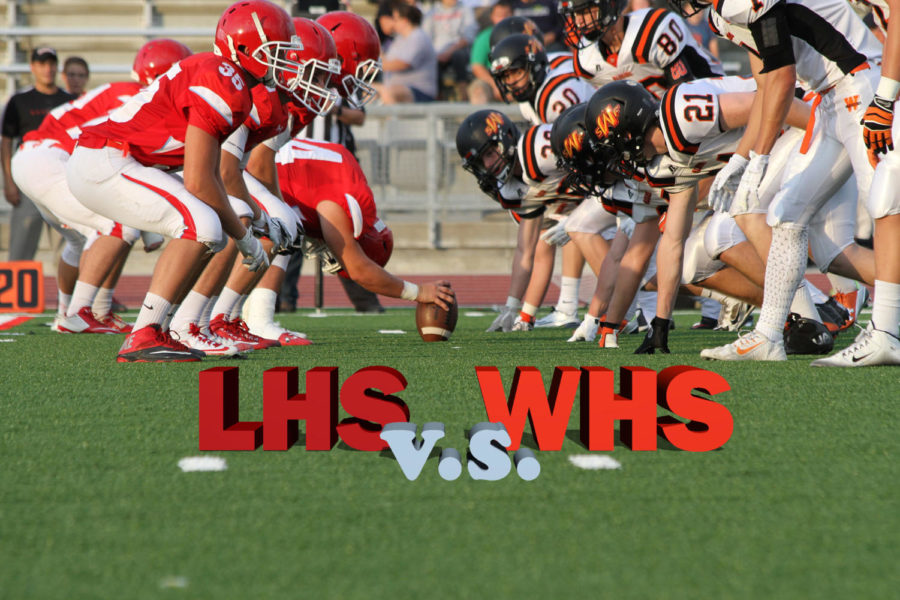 Glances are exchanged and recognized as the eyes of an LHS Patriot meets those of their opponents, but from them emerges one crowned rival, the WHS Warriors. From opposing ends of the gymnasium to Howard Wood Field, the conflict between two schools within just ten minutes of each other cannot be clearer.
In a bit of history, WHS was built from Sioux Falls High School as a better way to accommodate students in 1908. 58 years later, another school was built and named after President Abraham Lincoln. Ever since then, the two schools have battled it out to see who will be the best.
With the football season championship finishing up the totality of fall sports, the two high schools are revving up their winter athletics, and the clash has already begun. It seems, though, that students believe the battle in-between is actually able to boost athletes in their performance and give them a positive influence.
"It makes kids want to get involved with sports and want to win," said LHS freshman Ruby Metzger.
Although WHS football competed in the state championship this year, LHS golf, tennis and cross-country took those state trophies home for LHS, it is obvious that both schools have different areas of expertise. Although, for Tupak Kpeayeh, it is not all about trying to beat each other.
"It's just a group of guys and a group of girls coming together and playing at their maximum level," said Kpeayeh.
Kpeayeh is a WHS senior and is noticeably involved with athletics as he is the running back for the WHS Varsity Football Team. He believes that the rivalry, which he has been very close to for the last four years, all goes back to sports.
"Nobody wanted to lose against each other, so they leave everything out on the field or on the court," said Kpeayeh.
With the long-running rivals, it becomes a concern that it might cause issues of sportsmanship between athletes. But as far as it goes with WHS Volleyball Coach Kelly Schroeder, it may not be as much of a subject, at least for his players, as the public believes.
"I know that after the game and even before the game our girls are talking to each other because they played together when they were in middle school, playing club together and seeing each other throughout the four years," said Schroeder.
Looking past the LHS and WHS rivalry, and even past the other well-known competitor RHS, lays the upcoming high school planned to open in 2021 or 2022. With a fourth high school being added to the district, there will be new foundation for fresh rivalries.
"I think we, being Washington, Roosevelt and Lincoln, all might have kind of like a standard for them," said WHS freshman Molly Mullen.
But overall, the teams should, and have, worked hard at preserving good sportsmanship and using the rivalry as another way to enjoy the four years of high school. The coach's message to his opposing team is simple.
"Good luck, and let's go have some fun," said Schroeder.
Correction: 12/03/18
An earlier version of this story contained minor grammatical errors. They have since been fixed.
Author
Caleb Miller, Staff Writer
Caleb is a freshman and first-year staff writer. When he's not working on his next documentary or playing 19th-century hymns on the piano, you can find...