Volcano eruption urges thousands to flee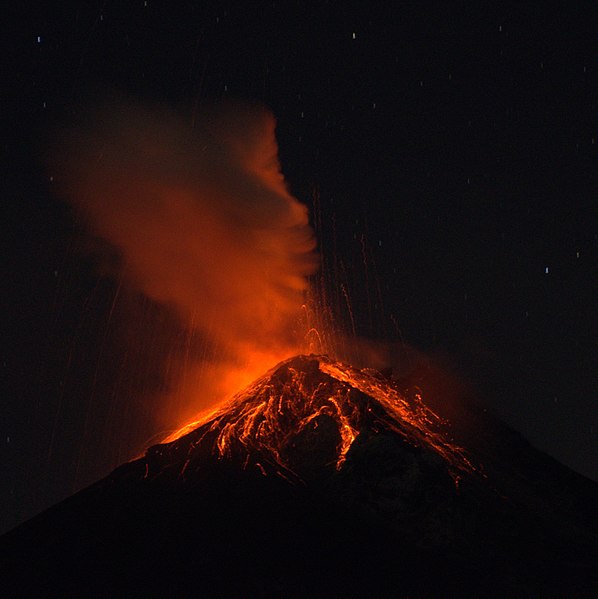 Hang on for a minute...we're trying to find some more stories you might like.
One of Guatemala's most dangerous and active volcanoes is forcing thousands of people to flee in terror. Sunday, Nov 18th, Fuego erupted for the fifth time this year, just one month following the last eruption in October.
According to CONRED, flashes of lava rose up to 3,280 feet above Fuego's base and had "constant sounds like a train." Ash elevated to around 23,000 feet above sea level before going towards Guatemala City. The volcano shot out hazardous flows of lava and hot gas overnight. There have been no immediate reports of injury or death.
According to the NDC, 3,925 people evacuated in school busses towards a football field and a school in Escuintla, a city in South Central Guatemala.
The volcano is located about 19 miles away from Guatemala City and is surrounded by many smaller communities. Fuego has erupted 60 times since 1524, which makes it SA's most active volcano. Three of these explosions have resulted in deaths. Typically, this volcano's terrifying eruptions last between a few hours and a couple of days, but the effects last forever.
Thankfully, this eruption is not like the one in June of 2018 when the volcano erupted and was confirmed to have killed over 100 people. Many people lost their jobs, homes and family members. It was the deadliest volcanic eruption in the history of Guatemala, and locals were worried Sunday would be a repeat of the tragedy. More than 230 people remain missing from the June eruption, even after six months.
"We were horrified because of what had happened the last time. We were worried what could happen," said Guatemalan farmer Victor Hernandez to Al Jazeera.
Hernandez also told Al Jazeera the government wants them to return home, though it is very dangerous and high-risk. Nobody wants to go back to a place that is continuously struck with terror from Fuego. Evacuees are expected to return to their homes Tuesday, Nov. 20th.
Correction: 12/4/18
A comma was placed after typically.
Author
Charlie Turner, Staff Writer
Charlie Turner is a sophomore with a passion for the "Die Hard" movies, as well as the show "Brooklyn Nine-Nine." While Turner is not busy, she...