Girls Basketball 2018-2019 season preview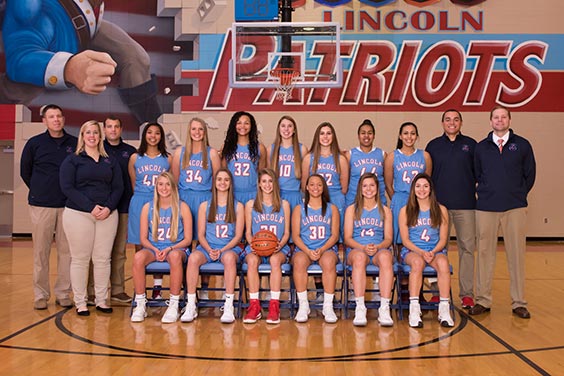 Hang on for a minute...we're trying to find some more stories you might like.
The basketball season is about to be in full swing, as the Lady Pats are preparing for their first game this season, which will be held at home on Friday, Dec. 7 against the Watertown Arrows.
The team had a strong 2017-18 season, placing third at state. This year, they hope to come back even stronger at the Denny in March. To accomplish this daunting task ahead, the team is focusing on process goals, rather than on the large picture: making a run at the State Championship. The strong mentality that they establish at the beginning of the season will carry the team to success at the end.
"I think that it is all about remaining focused," said junior guard Morgan Hansen. "Because the season is really long, so as you get further in, you start to lose focus and get tired of playing … We just need to keep preparing, just like we do every season."
One of the immediate challenges the team faces is choosing a new point guard to fill former senior, Courtney Klatt's role. This decision is crucial to the team's success, as they will act as a leader on the court. Whoever will be chosen should be prepared to step up and assume leadership in order to train a lineup of strong individual players to work as a team. The team's chemistry is where the many components come together, so it is crucial for them to develop it early on in the season.
"I think we need to keep the strong mentality of how we are playing in the State tournament and how playing well will get us even further, as well as playing as a team," said Hansen. "You don't necessarily have to have the best skills, but if you work well together, you'll get pretty far. I think we just need to keep that same focus and mentality that we did last year and I think good things will come out of it."
So far, the team has put in a tiring amount of work, starting its preparation in the summer and continuing through the fall.
"We start working in the summer, and then fall season is when we really hit it hard and we condition, [as well as] start getting in the weight room in order to prepare," said Hansen. "We also have seven practices within the first week of actual practicing season, so within five days we have seven practices. We go all in for the full two hours of practice, so we really start breaking down everyone's games and start learning to work together again by scrimmaging."
The Lady Pats are sure to start off the season with a strong impact, with great intentions of surmounting their State tournament placement last season.
Author
Lauren Teller, Staff Writer
Lauren Teller is a junior and second-year Statesman staff member. Aside from her time spent hanging out in the j-lab, Lauren is an active member of the...