Patriots back at No. 1 after defeating the Bucks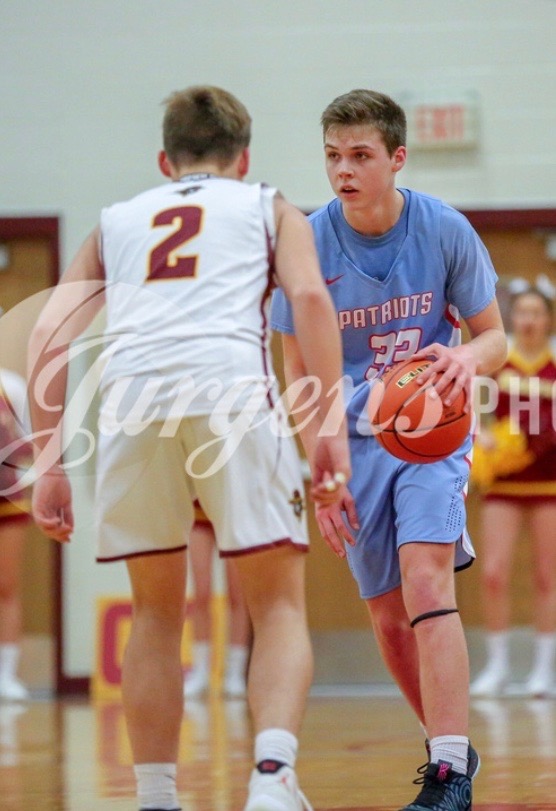 Last Saturday, the LHS boys basketball team headed South to Yankton to face off against the YHS Bucks who were previously seeded number one before their defeat at the hands of the Patriots. The win was more comfortable for LHS players and fans than previously anticipated.
The YHS Bucks are notorious for their 6'7, 220 pounder, starting power forward who led his team to a State championship just last year. Matthew Mors was only a freshman when he achieved this rare basketball feat. Mors is now a sophomore and eager to bring another title back to his hometown, making YHS tough competition. Nevertheless, the Patriots asserted themselves back on top of the food chain by winning Saturday night. This win officially placed the target on their back once more, after having the number two seed prior to defeating YHS.
The final score from the game on Saturday was 69-53, despite the previous notion that it would be a very tight game all the way through. The evening before playing YHS, the Patriots were also successful in defeating Saint Paul Central from Minnesota. The LHS team is composed of a wide range of players and nine of them were able to see playing-time and contribute to the final score Saturday night. This displays an impressive amount of depth which will undoubtedly help them this season.
"We are taking it one game at a time and bringing as much energy to each game as possible," said junior Sam Fawcett. "Our team is full of unselfish players and we have a lot of depth as well. We are really energetic which helps us win games and makes it really fun to compete."
LHS recently had an early season scare involving senior Jared Jaros, the 6'2" shooting guard. During a game against RHS, Jaros came down on his knee awkwardly and had to be assisted off of the court, but he has returned as a huge offensive presence and an overall contribution to the team, despite still somewhat recovering from bruising his kneecap.
"I was told my kneecap shifted over my IT band and that didn't really feel the best and it still hurts a little after games," said Jaros. "As a senior I see myself as one of the leaders on our team, always trying to help our team out as best as I can."
The boys hope to make it to the State tournament and are keeping their eyes on the championship title, while the rest of the State basketball teams are sure to battle hard against them.
"The atmosphere on our team is a great group of guys that play well together with good chemistry," said Junior point guard Max Burchill. "Our inside play has been tremendous from our bigs, Nate Brecht, Tyler Hiatt and Mitch Eichacker along with tremendous play from Jared Jaros one of the best players, if not the best player in the state. Also to our advantage, we have a lot of players that are really competitive and will give you 100 percent every time out."
With the statistics and talent that LHS has it would be a shock not to see them continue this movement into the finale of the season; however, something you can't see through the statistics is their team chemistry and ambition to succeed.
"Our biggest difficulty we may face is just staying focused and keeping our eyes on the title," said Fawcett. "Although our team has a lot of juniors, I think we have adjusted to the fast pace game of varsity basketball pretty well. The seniors have also done a great job of stepping up this year and being great team leaders."
LHS has a rich history at State tournaments and championship games. It will be interesting to see how the rest of the season unfolds, and if the Pats will be able to pull off a championship finish yet again.
"The guys have been feeling really comfortable the last few games," said LHS head coach Jeff Halseth.  "Sometimes, I think they're even a little too unselfish, passing up some good shots. (But) when they are shooting them, they are going down. We'll see how long we can ride this thing out."
Author
Caroline Sudbeck, Entertainment Editor
Caroline Sudbeck will be a Junior this fall and is a first year staff member for the Statesman. Sudbeck is seventeen, young and free, and most people say...