A 'smarter' Smarter Balanced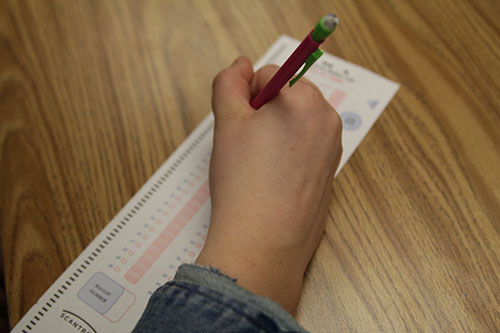 Junior students have always taken the Smarter Balanced test in Spring to give their district insight on how effectively each school is teaching their pupils. However, there have been some changes this year.
For the first time, Seniors will take a test to examine their post-high school readiness.
"It's trying to figure out if we're career ready, which doesn't really make sense to me, but I'm not too worried about it," said senior Jared Rundell.
To prevent Juniors from picking random answers, the school board has decided to take away open lunch from Seniors who do not try to do well on the test.
"It seems unfair to make students wait three years to finally have a little freedom and then take it away because they might have have a bad day," said sophomore Kennedy Kolb.
Many LHS students are upset with the district's decision, but standardized tests have never been popular, so that is a given.
"I'm not a fan of standardized testing," said Kolb. "I'm not an educator or on the school board, but I don't feel like it's an accurate measure of a student's academic achievement. The evaluation of how much a student has learned or how 'ready' they are for college shouldn't be determined by a written test. Especially because standardized tests are statistically based and don't take into account that the people taking them are real people and can be influenced by outside factors that could mess up their results."
It is not necessary to stress or study for the test. As long as an individual puts effort and tries their best on the test, they should receive open lunch as a senior.
"Don't completely rush through it. Finish it, do your best with it," said Rundell. "It does make our school look better and rushing through it doesn't really prove anything."
Seniors's Career and College readiness exam will last three hours for one day, while Juniors will test for about 90 minutes for three consecutive days.  While they are testing Freshman and Sophomores will have Junior Achievement, tour Career Technical Education Academy to learn about possible classes they could take.
"I am excited because it opens another door of opportunities," said freshman Ashton Dorman.
Sophomores will be exploring possible career paths while touring Southeast Technical Institute.
"I had no idea we were visiting STI, but now I'm kinda excited," said Kolb. "As far as exploring possible career paths, that sounds kind of terrifying. I've been so caught up in what's happening in my life right now with homework and tests that I haven't had time to think about the future."
Some are excited to look at possible careers and classes, while some dread testing.