Future of journalism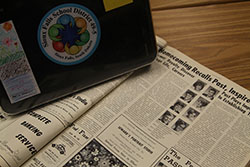 Hang on for a minute...we're trying to find some more stories you might like.
News broadcasting is an ever-changing field. To be a good journalist in 2019, one needs a new skill set that they may not have need a decade ago. The world is evolving; so must our writers and truth seekers.
For a journalist to not get laid off in 2019, they need to write the story that will get the most views. They need clickbait to survive.
"Your audience determines what is newsworthy," said Augustana Journalism Professor Jeffrey Miller. "What do they want from you and what do they need from you? Today, headlines are written to get clicks. Clickbait is what your audience wants, not what they need."
Journalists are mocked for writing about Kylie Jenner's baby instead of the war our nation is in or human trafficking that is happening right in front of us. It is our fault, it is the readers fault.
"We provide more of what people want than what they need, which is causing some damage," said Miller.
Last night, I tapped on a blatantly yellow journalism headline: "Did this Family Vlogger's prank go to far?" I watched as Cole and Savannah LaBrant told their daughter Everleigh that they were going to sell her brother as an April Fools prank. That was it. That was the breaking news story that I read instead of writing this story.
In recent years, the Argus Leader has undergone a major staff cut, from 75 to 18. How can a staff of 18 cover the community enough to compete with the clickbait being put out by bigger news networks?
"The one thing that will keep news afloat in this area of the country is the weather," said Miller. "It'll still be there and people will still watch it. What do people need and what do people want? People need and want to know their weather."
Local news may fade away, but it will not completely disappear.  Journalists who adapt and learn to utilize social media will thrive in their ever-changing work environment.