Merkley: Jumping past expectations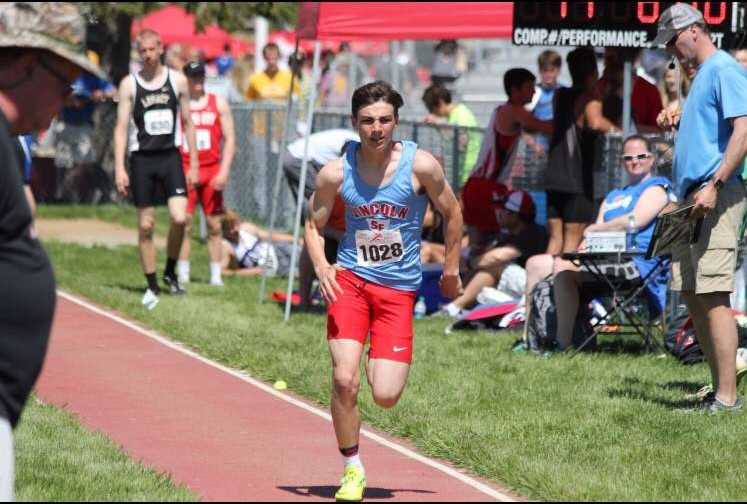 Last Saturday at the Harrisburg Invite track and field meet, LHS junior Hunter Merkley broke one of LHS' long-standing track and field records, as he broke the 35-year-old record for the long jump with a leap of 23 feet 0 inches. Merkley's record-breaking jump surpassed former Patriot Bill Mattingly's record jump of 22 feet 9 inches, which Mattingly completed in 1984.
Merkley is a multi-sport athlete who also competes in football and basketball alongside track at LHS. There are many benefits of being a multi-sport athlete, such as staying in good physical shape year-round and, more specifically, working different muscles of the body through competing in different sports.
"Jaws always talks about how doing different sports works different muscles, so [being in multiple sports] helps," said Merkley.
Preparing for track season is no different, as the majority of the training that Merkley does throughout the year is not focused solely on one sport, yet it is essential to performing well in any sport.
"I don't just focus on long jumping, but I'd say that playing basketball helps with jumping and other things," said Merkley.
Although Merkley does not focus primarily on jumping, there is a specific routine that he and other members of the LHS "flight crew" (the self-proclaimed name of the LHS long, triple and high jumpers) go through before meets.
"The practice before a meet we usually do run-throughs, where you find where you're going to start and try to hit your mark on the board so you don't scratch," said Merkley.
With this goal of Merkley's recently accomplished, he is now looking to try and surpass his next goal.
"My next goal is to beat the state record which is 23 feet 8 inches," said Merkley.
Merkley would like to further his jumping career in college as well. With Merkley's recent feat, college coaches are sure to be on the lookout to see what Merkley can do the rest of the track season.
After dethroning Mattingly atop the record books, Merkley is also now the clear frontrunner for the long jump individual state title. Up to this point, Merkley's furthest jump is over a foot further than the next best-recorded jump by a competitor. There are many expectations for Merkley this track season, but he is just hoping to just jump right past them.
Author
Landon DeBoer, Sports Editor
Landon DeBoer, one of the Statesman's Sports editors, is a senior and a third-year staff writer. When Landon is not writing stories, he enjoys playing...