'On My Block:' Netflix's diverse teen megahit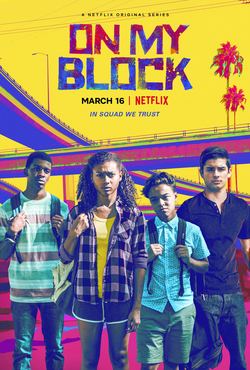 Disclaimer: This article contains spoilers for season one of "On My Block".
For the past 30 years, TV has been dominated by the white rich kid narrative. Shows like "90210," "Schitt's Creek" and "Gossip Girl" are easy, instant hits. Nothing is more interesting to today's teens than the life of the upper class.
Or so everyone thought. In March of 2018, Netflix released the first season of "On My Block," a show that follows four friends making their way through the struggling, gang-ridden city suburb of Freeridge, California. The four main characters are charismatic, funny and easy to love. It is easy to see why this show is a hit.
The first season, although mentioning gang-related issues and general teen angst, was relatively light-hearted and easy to follow. The directors and screenwriters managed to both create a comedy and bring up major issues facing low-income and minority communities. Perhaps the biggest turning point for the season was in the last episode, when one of the main characters, Ruby, and his new girlfriend, Olivia were shot at her quinceñera. Only one of them survived. The shooting was unexpected and shocking, and turned the direction of the show in a 360. Rather than just a show about teens growing up, it suddenly exposed real-world connotations that many middle-class Netflix watchers do not necessarily think about daily.
With the second season comes even more gang violence, including other issues like racism and absentee parenting struggles. It is nitty-gritty and soul-touching, to say the least. The characters worm their way into your hearts in the most unexpected of ways. You see the characters transform from innocent, cheerful teens to people that really struggle with real problems, and it is truly visceral to watch. Season two showcases the individual talents of each actor while also highlighting their chemistry. Jason Genao really shines with his emotive and nuanced performance as Ruby, and Sierra Capri and Diego Tinoco's tumultous relationship as Monse and Cesar effortlessly becomes the focal point of the show to all romance lovers.
"On My Block" has managed to become an action, drama, romance and comedy show all rolled into one. The show transcends borders set by traditional TV, both through it being a streaming-only show and one that crosses multiple genre lines. If you have not given it a watch yet, make it the next on your binge list.
Author
Molly Wetsch, Editor-in-Chief
Molly Wetsch is a senior at LHS. She is a second-year staff member and serves as one of five Editor-in-Chiefs for the Statesman. When not hanging out in...