Rosalía is Spain's hip hop princess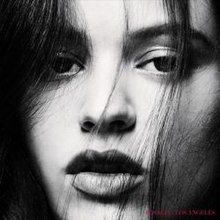 When you think of pop music or songs that you tend to hear on the radio, you probably think of lighthearted, ear-catching English tunes. Rosalía Vila Tobella, a Spanish artist more commonly known as Rosalía, is redefining that narrative with her most recent body of work.
Rosalía's first LP, "Los ángeles," ("The angels"), released in 2017, had already established her as a force to be reckoned with in the Latin pop industry, peaking at #11 on the Spanish charts. She did not slow down or disappoint with her newest project. "El Mal Querer" ("The Bad Loving" in English), Rosalía's sophomore album, is a firestorm of Flamenco and Catalan influence combined with hard-hitting hip hop beats. The album has not only worked its way to the top in Spanish-speaking countries but has broken its way onto the scene in the U.S.  The album is separated into 11 different "'Capitulos," or chapters, each individual songs that combine to tell a greater story.
The first is the sharp, pounding "Malamente." Rosalía shows off her flowing, nuanced vocals that combine with handclaps and electronic chords in the background, telling the story of desire and warning. Capitulo one is entitled "Augurio" or "Omen" in English. Rosalía said of the leading track: "It's a premonition—this moment when you know in the beginning of the story how it's gonna end, but even then you go and do it." One lyric particularly stands out among the rest: "Antes de caerse al suelo, ya sabía que se rompía" ("Before I fell to the ground, I already knew it was broken"). To those who understand Spanish, perhaps the song is easier to listen to and sing along with, but even to monolingual English speakers, it clearly contains all the makings of a hit.
The first track is only a taste of how Rosalía effortlessly and fluidly combines her traditional Spanish culture and vocal training with modern pop. "Pienso en tu mirá" ("I think of your gaze"), the third song on the album, is a paranoid, personal song that fits with Capitulo three's theme: Celos (jealousy). Rosalía croons over synth beats and continues her nod to Flamenco music by using handclaps as her main driving force of the song. The shouting background vocals of the chorus are pleasing to the ear in a way that makes it perfect for radio. The lyrics are relatable and intelligent, with themes of paranoia and unnecessary jealousy that many in a relationship can connect to. "Me da miedo cuando sale/Sonriedo pa' la calle" (It scares me when he leaves/Smiling in the street). The song is catchy, easy to follow and most of all, confirms that modern music is evolving. The song does not follow the traditional construct of a hit- Rosalía was influenced by a Bulgarian choir and her Spanish roots to construct the primary melody of the song.
Despite its incredible success in other countries, it has proven to be difficult for Spanish to break into the American music scene in an impactful way. But as we have seen recently with the mounting success of "Despacito," remastered and remixed by Justin Bieber, and in the past with classics like "Macarena" and "La Bamba," it is possible. With this powerhouse of an album, Rosalía has proven herself to have not only the talent but the tenacity to become the world's next princess of pop.
Author
Molly Wetsch, Editor-in-Chief
Molly Wetsch is a senior at LHS. She is a second-year staff member and serves as one of five Editor-in-Chiefs for the Statesman. When not hanging out in...