The first full trailer for 'The Lion King' live action has been released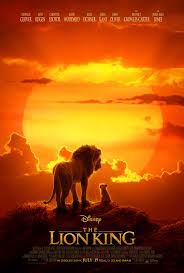 Over the last few years, Disney has made some of their most popular movies into live action films. Among these films includes, "The Jungle Book" and "Beauty And The Beast." It was once Walt Disney's vision to remake some of his most famous films, and Disney is now giving fans a taste of the live action version of everyone's favorite films.
This powerful trailer gives fans a small look at the CGI magic that makes these remakes so special. The film is set to hit theaters in July following the release of "Dumbo" which was released in March and "Aladdin" which will be released in May. The trailer includes an invoice by Chiwetel Ejiofor, who plays Scar.
The trailer showcases a young Simba growing up in the wild with the guidance of his animal pals. Simba, played by Donald Glover is guided by his father Mufasa as the trailer includes the famous line,
"Everything the light touches is our kingdom, a king's time as ruler rises and falls like the sun. One day, Simba, the sun will set on my time here, and will rise with you as the new king." The film also includes footage from the heartbreaking scene every fan knows where Simba loses his father to a pack of wildebeests. In the trailer, we also get a first look at Scar, the villain of the film, as well as both adult and young Nala, played by Beyonce Knowles.
The 2019 version of the film is a remake of the original version released in 1994. The new film includes a very realistic look that makes the film come alive. The cinematic experience will most definitely leave viewers and Disney fans in awe. Director, Jon Favreau has once again created a cinematic masterpiece. The film world could not be more excited for more live action films to hit theaters.
In the years to come, Disney has announced the remake of classic Disney favorites, such as "Mulan" and most recently, "Lady And The Tramp" Disney is set on giving an unforgettable experience to each movie-goer as well as a new way to experience the classic Disney magic.
Author
Lauren Bickett, Staff Writer
Lauren Bickett is a junior at LHS this year and has participated in Statesman for two semesters. Outside of school Lauren likes to spend time with close...