Just in time for summer vacation: students show their teacher appreciation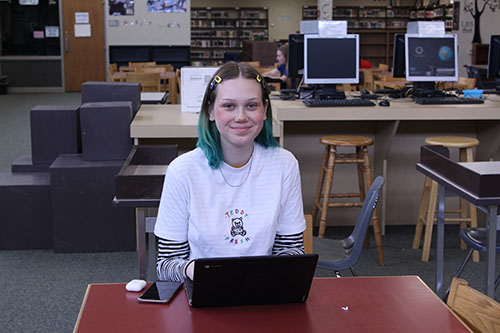 Hang on for a minute...we're trying to find some more stories you might like.
Every year in Sioux Falls, a week in May is dedicated to teacher appreciation. Throughout this week, students, parents and even some local businesses have shown teachers in the Sioux Falls area their appreciation by providing small gifts such as treats, discounts and even personal notes/letters.
Teachers work, on average, 8 hours per day, primarily giving lectures, answering questions and creating lesson plans. Most teachers also spend additional time at school before and after classes have started and ended in order to ensure that their students are getting the help they might need in order to be successful. Teachers serve an important role not only in educating students about particular subjects, but in educating and mentoring students about life and how to deal with problems they might be facing.
Teachers play a vital role in shaping the future of the current generation and creating the change makers of tomorrow. School can become quite tiresome when the year is nearing an end and that is why teacher appreciation week comes at the perfect time.
While treats are obviously nice to receive, what is perhaps even more encouraging to teachers is when they hear they are doing a good job at teaching. Teacher appreciation week is an excellent opportunity for students and parents to let their teachers know they are doing a great job of not only building a student's skills and knowledge but also that they are building a student's character.
If you have not yet shown appreciation towards your teachers, do not fret; it is never too late. You can still drop off treats in the teacher resource room before school or slip a goodie onto your favorite teacher's desk. However, you do not have to bring a treat, you can also bring a smile, a good attitude or simply a willingness to listen with the last remaining weeks of school. I am sure many teachers would tell you that energy and ambition are just as welcomed a homemade cookie.
While teacher appreciation week might end on Friday, it should last all year long. Do not forget to continue to say thank you to your teachers every once in a while.  
Below, some Patriots share messages to teachers they appreciate:
Isabella Szabo
"I appreciate Mrs. Ortmeier because she's always really kind and very encouraging."
Analise Levesque
"I appreciate Mr. (Chris) Ernster because he genuinely cares about our well-being and success."
Owen Jenkins
"I appreciate Mr. Tuttle because he fully understands the struggle of being a student."
Emma Schock
"I appreciate Mr. Carlson and Mr. Anderson because they are passionate about what they do and know how to bring out the best in their students."
Alexis Allen
"I appreciate Mrs. Bushfield because she makes learning fun by making it more interactive and hands on. Also, I really love how sweet she is and how much she cares about all of her students."
Ian Ward
"I appreciate Mrs. Bull because she makes learning a journey of character building and genuine understanding."
Raena Brendtro
"I appreciate Mrs. Bull because she takes literature to heart, and believes in her students as the future of lit. and comp."
Author
Caroline Sudbeck, Entertainment Editor
Caroline Sudbeck will be a Junior this fall and is a first year staff member for the Statesman. Sudbeck is seventeen, young and free, and most people say...