Mac is back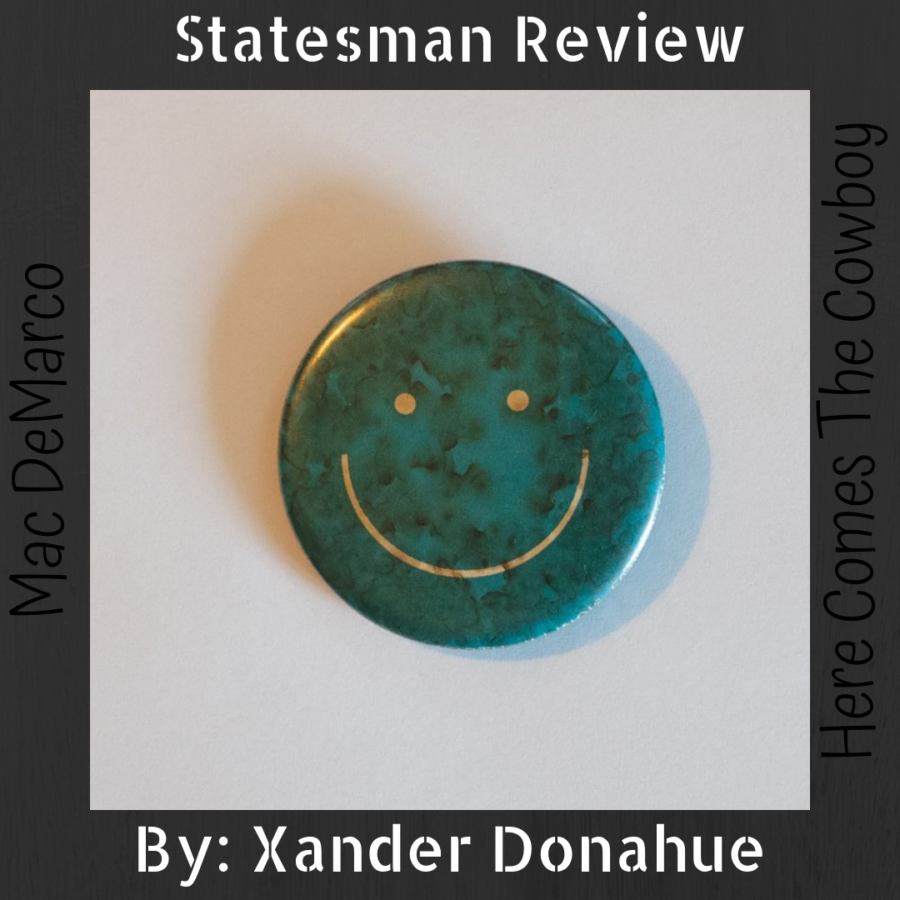 The laid back king of indie vibes and wacky antics is back. Canadian Singer-Songwriter Mac DeMarco is on the music scene once again with his fourth studio album "Here Comes the Cowboy."
"Here Comes the Cowboy" was released on May 10, 2019, following the release of his 2017 album, "This Old Dog." Mac's newest album offers an interesting listening experience, slightly deviating from his previous music, while still keeping within his style and sound. The album opens with the title track, "Here Comes the Cowboy," and let me just say, this song is a great way to open the album. A lone guitar that is reminiscent of a vacant ghost town is accompanied by a clicking shuffle of drumsticks. The phrase, "here comes the cowboy" is repeated over and over again for exactly three minutes until it fades off into the distance. Confusing? Maybe. Fun and light hearted? Most definitely. The song makes it seem like the album could go in any direction: it could be not too serious, all about cowboys, a country album, who knows? But right after the song ends, the crisp yet rugged guitar line from "Nobody" (one of the album's singles), breaks the silence.
A low and calming droning synthesizer, a steady bass line and wonderful vocals set this song apart from any other one that Mac has written. It takes a steep turn from the previous song, offering a more melancholy feel. It really sets the tone (again), for what is to come. This song, along with many others on the album, feels incredibly honest and raw. Mac sings about being someone who's "lost his vision," and how the good old days are coming to an end. Even on the first listen, the collection of songs feels oddly nostalgic and welcoming.  
The album continues down this weird path of familiar yet completely new songs with "Finally Alone," a song about getting away from the city and needing a vacation far away. One of the more fast-paced songs, "Choo Choo," offers a short break from the otherwise slow and contemplative album.
The climax of the album, and perhaps the best track on it, is "All Of Our Yesterdays," a guitar heavy slow and steady tune that shows off Mac's vocals. Although every tune on the album is great, "All Of Our Yesterdays" feels the most Mac DeMarco. It shows off every part of his songwriting that attracted an audience way back in 2012.
"Baby bye bye" wraps up the album in a fantastical way. The tune starts like any other song, a relaxed piano line, smooth acoustic guitar and captivating lyrics. But one minute in, it switches into a sort of ballad, featuring more acoustic guitar and a slow shaker. It suddenly turns into a robust sing along reminiscent of The Beatles' "Hey Jude." The song transitions one last time into a western like funk tune. Mac then turns from singing into… well, screaming. It's groovy and funny as heck.
Mac's honest and inventive songwriting really shines on this record. Despite its inventiveness, however, I would not say that it is his best album, though it does stand out as a fantastic addition to his collection of albums. Either way, "Here Comes the Cowboy" is a fun and enlightening experience that every Mac fan should enjoy.
Author
Xander Donahue, Staff Writer
Alexander Donahue is a senior at LHS and a member of various prestigious music groups across the state. He hopes to someday have a bachelor's in music...