Offseason preparation leads lady Pats to fourth straight tennis title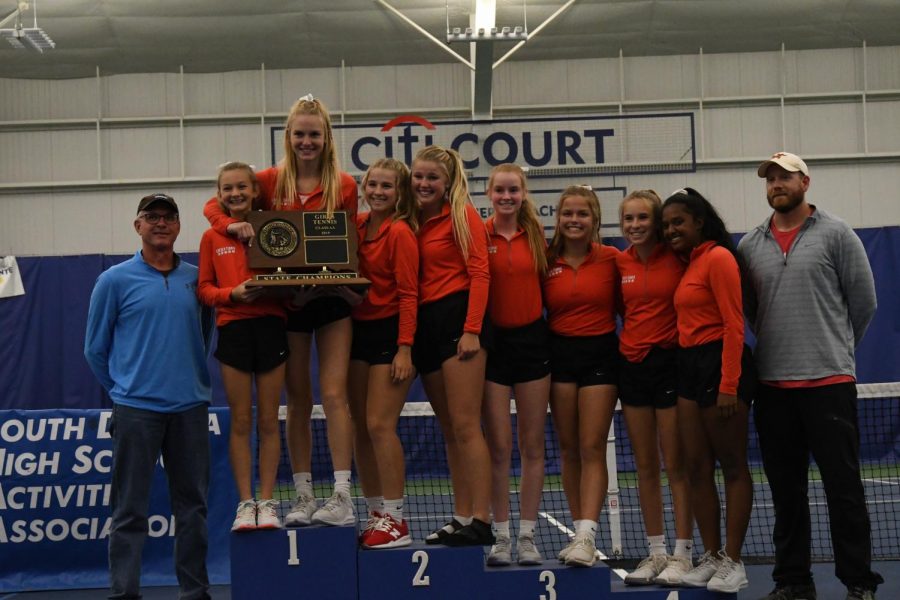 After an impressive performance claiming State a season ago, the LHS girls tennis team extended its State championship streak last weekend to four with yet another dominant showing from its players when it mattered most.
This continued success over the other teams in the state has helped showcase the blueprint the LHS girls tennis team has used to claim championships. To win this year's State title, the main contributors in doubles included juniors Ava Leonard and Johana Brower, who won flight one doubles and eighth grader Katie Johnson and junor Avery Blackman, who teamed up to claim flight three doubles. Alongside winning two of the three doubles flights, singles winners included Brower, who won flight one singles; sophomore Elle Dobbs, who won flight four singles and Blackman, who won flight five singles. Outside of these individual championships, the players who did not win contributed valuable points by placing well in their singles and doubles flights.
Although the team has consistently found the winning recipe time after time, the success never gets old, since nothing is guaranteed.
"It feels amazing to be State champions once again," said Leonard. "I think this year it was closer than it has been in previous years, and it wasn't necessarily guaranteed like it has been previously."
Winning four State championships in a row is not only attributed to the work the team puts in during the season, but it is also due to all of the work the team puts in during the offseason. Most of the top eight players on the team play tennis year round, helping to create such a well put-together program.
"Everyone works really hard in the offseason, it's not just what happens in season," said Brower. "A lot of the girls play tournaments in the summer, and we'll all go hit together."
Along with playing tournaments and hitting with teammates during the summer, many of the girls also take lessons and work out.
"I play tournaments in the summer and go to practices and private lessons," said Leonard. "I also train at the gym, run outside and hit with friends."
With all of these hardworking individuals on the same team, the program has been fortunate to not lose all of them at once to graduation. 
"We've been lucky enough to only lose a couple seniors at a time," said Leonard. "We've been gradually losing [seniors], so it has been easier to fill those spots."
Next season, the girls will lose senior Brita Quello, and they will also lose Johnson, who is moving to another state, so the team will still be in contention for a fifth State title next season with new players stepping up to claim their spots. To win State next season, it will take the same hard work and mindset it has taken throughout the team's winning streak.
"To win again we'll need a positive mindset and to not think we have it in the bag," said Leonard. "We need to go out there and try our hardest and whatever happens, happens."
The drive and passion the girls have for the game, supporting teammates and winning is what keeps the streak alive and feeds the thriving program for future success.
"I feel very honored to play on a team as great as [LHS], and I really love my teammates and love playing with them every year," said Brower. "Each year it takes the same energy level and the determination to win."
Author
Landon DeBoer, Sports Editor
Landon DeBoer, one of the Statesman's Sports editors, is a senior and a third-year staff writer. When Landon is not writing stories, he enjoys playing...