Statesman is named superior newspaper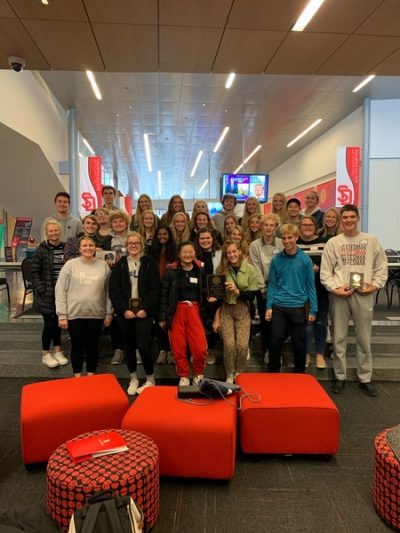 Hang on for a minute...we're trying to find some more stories you might like.
This week, the LHS Statesman staff members jumped on a bus and traveled to Vermillion, SD for a journalism convention at USD, where they were recognized with the award of superior state newspaper. At the event, journalism students and advisors participated in mini seminars, an award ceremony and an open panel with news reporters to further their interest and skills in journalism.
This annual journalism convention, also referred to as J-Day, is a great learning opportunity for Statesman staff members, where they can gain new photography techniques and hear advice on design and story ideas.
"My favorite part of J-Day is getting to see and learn about different perspectives on journalism and going to the different speakers where you can obtain some ideas on how to make your ideas better," said Tayor Ericson, a Statesman Editor-in-Chief.
Within the past several years, the Statesman has made many changes, some involving the work ethic of the staff members and story quality, to ensure they produce the best issue possible.
"I think that, overall, the stories that we write are a lot more in depth now than they were in the previous years," said Ericson. "Also, we have worked out the kinks with deadlines and things like that. People take it a lot more seriously in the more recent years than they did in the past."
Alongside the paper issues, the online section of The Statesman has also grown and developed immensely. The online Editors-in-Chief, Cathleen Weng and Genna Sheriff, do what is needed to confirm the online audience's fulfillment.
"With online, Cathleen and I work really hard to make sure that we have a variety of stories each week; we try and make it well balanced," said Sheriff. "If we're lacking in an area, one of us will pick up a story. I think our overall goal is to help everyone become better writers by giving them the best edits that we can."
Another change made to the newspaper was the style and overall look. In previous years, the issues looked very similar to a standard newspaper. However, it is now in the form of a magazine, allowing students to take more risks and be more creative with their page designs.
"A lot of the staff members take risks to write new stories and interview a lot of different people to get different perspectives as well as taking risks with their design, which is something you don't see across the state in other newspapers," said Ericson.
The advisor of The Statesman, Katie Kroeze, is humbled by this accomplishment. Her encouragement and demonstration of strong work ethic helps staff members to become the best writers they can be.
"As an advisor, it makes me really proud, because we put in a lot of work and effort," said Kroeze. "Throughout the year, kids work extremely hard, so I'm proud of the students and also proud of myself because I've also put a lot of time and effort into it." 
The title of superior state newspaper was not easy to come by, but it was well deserved. The staff members, editors and advisor all put in countless hours of time and effort to improve their own stories and design as well as the newspaper as a whole.
"I think that the Statesman deserved the award because we really strive to be the best; we really strive to maintain the integrity of the newspaper and also try to maintain our tradition of being excellent at Lincoln," said Kroeze.
Author
Kathryn Sweeter, Feature Editor
Kathryn Sweeter is a senior and a second-year Statesman staff member. This year she will also take on the role of the Feature Editor. When she isn't...