Pizza Hut's Cheez-it pizza is interesting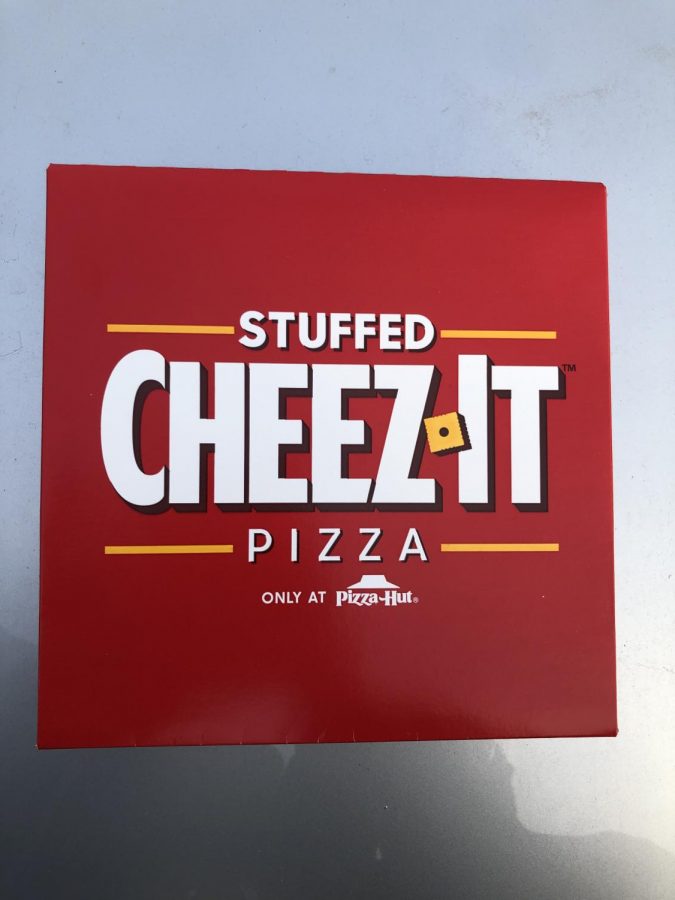 The partnership between fast food restaurants and cereal and snack brands has become an increasingly popular trend among these franchises. The latest product of these partnerships is the Cheez-it Pizza from Pizza Hut. After trying it, we graded it based on three categories: appearance, taste and overall quality.
For $6.49, we purchased the pepperoni Cheez-it Pizza, which had a surprisingly appetizing appearance. The presentation was respectable, but the smell was substandard. The box, which resembled a Cheez-it box, looked very clean and was packaged well. Inside were four squares that looked exactly like big Cheez-its. Assuming that the purpose of the pizza was to resemble a Cheez-it, Pizza Hut did a good job. For its appearance, we gave it a seven out of ten, which far exceeded our expectations.
Next, we evaluated its taste. For obvious reasons, we did not expect much for taste. To begin with, Cheez-its and pizza are a borderline combination, teetering on the edge between tolerable and disgusting. The pizza was, in almost all aspects, a glorified Hot Pocket. The crust was the only exception, as it was flavored and colored like a Cheez-it. For taste, we generously gave it a five out of ten. 
Finally, we analyzed the pizza as a whole in order to grade its overall quality and drip. The pizza, truthfully, was made well, but the partnership between Cheez-it and pizza made the pizza an inherent failure. As our expectations were low to begin with, not finding a hair in our pizza earned it an eight out of ten in overall quality. 
 The Cheez-it Pizza was a bold move that had potentially lucrative results. After trying the pizza, we have concluded that it will not be a money-maker for Pizza Hut. Despite the looks and the quality of the pizza itself, the taste and the smell are something we just could not get over. Pizza Hut managed to make that delicious smell of Cheez-it crackers and pepperoni pizza turn into a combination of odors you'll never want to inhale again. If we had to describe the Cheez-it pizza in one word it would be unsatisfactory. 
Author
Hunter Hauck, Staff Writer
Hunter Hauck is an LHS senior and first-year Statesman staff member. Hauck is kept busy with Student Council, Best Buddies, tennis and other clubs. Outside...
Spencer Wasmund, Sports Editor
Spencer Wasmund is a senior and a first-year Sports Editor for the Statesman. When he isn't writing for the Statesman, Spencer enjoys playing football...