I gave my heart to 'Last Christmas'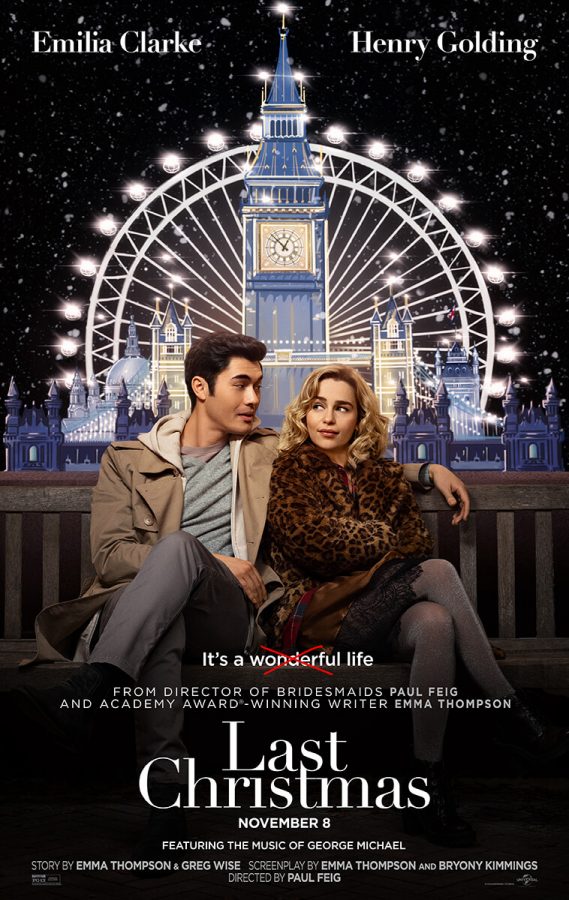 Being the first theater-released Christmas movie in 2019, "Last Christmas" certainly had a lot to live up to. While it may not be immortalized as a great Christmas film, the combination of festive spirit and romance is sure to warm anyone's heart this holiday season.
Set in London, the movie follows 26-year-old Kate (Emilia Clarke), a slightly depressed, technically homeless, Yugoslavian immigrant, who can only be described as a hot mess. She spends her days working at a Christmas knick-knack store with an elf costume as a uniform, and her nights bouncing between apartments owned by friends or casual hookups. Just when it seems like happiness is a lost cause for Kate, after she causes a break-in at the store and humiliates herself at an audition, she meets Tom (Henry Golding). He is handsome, charming and quirky – the classic love interest. As they explore London together, Tom teaches Kate to 'look up' and observe the beauty of her everyday life that she otherwise never would have noticed. 
The film is a little slow to begin with, but Kate's wit and sarcastic humor promise to crack at least a couple smiles from viewers before the plot really thickens. The movie also addresses many important real-world concepts, such as immigration, poverty and sexual orientation. The primary themes, however, involve the complex trauma of illness and the fragile bonds of family. Tom's optimistic character can certainly be an example for us all on a healthy way to approach life. As far as romantic comedies go, "Last Christmas" has quite sophisticated underlying messages.
Although the overall message of the film does not directly involve Christmas, the soundtrack and the set do enough to put you in the Christmas-y mood. As expected, there are plenty of appearances of George Michael's song "Last Christmas," which is the movie's namesake, as well as many other of Michael's songs. This classic Christmas rom-com is also enhanced by a heart-wrenching ending you would never see coming. Any appreciation of the metaphors surrounding the love story will undeniably cause you to leave the theater in tears.
Author
Avery Blackman, Staff Writer
Avery Blackman is a junior and a first-year staff writer for the Statesman. She plays tennis for LHS, strictly to help score Kelo Cup points. In her free...