Beating the Impossible Quiz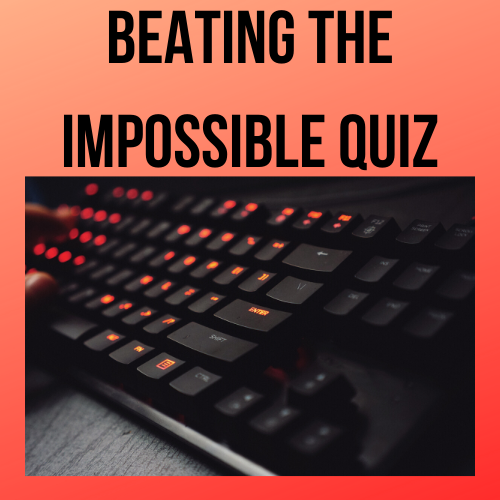 The Impossible Quiz is a quiz for people of high intellect. It prompts the quiz-taker to think so far outside the box that even geniuses of the highest manner might not pass. There have been rumors of people going mad after hours and hours of attempts only to reach level 30. There is not a definite answer as to how many questions are on the quiz, but a matter of passing is merely staying sane. 
We are here to put the rumors to rest. How hard can the quiz be? How long does it actually take? And most importantly, how many questions are there? As we embark on this journey, we can only pray that we show strong resolve and that above all else, we finish the quiz. 
Entry 1 (Hunter) 
Day one of attempting to beat the Impossible Quiz was somewhat of a success. Question 40 took the most time to figure out because it required us to right click on the mouse which was an interesting twist to the quiz. As a whole I am feeling very confident knowing we reached question 63. We are hoping that by tomorrow we will be able to finish the whole thing. We have passed the first sanity check.
Entry 2: (Spencer)
Day two of the Impossible Quiz. The confidence that we both had yesterday has rapidly and almost completely disappeared. Tensions are running high as Hunter now enters questions in the 80s which are rumored to be a real testament to mental speed. Hunter has begun to go mad and I am beginning to no longer feel safe being in the same room as him. Question 84 has led him to become violent as it has cost him several perfect runs up until that point. He has also started to vigorously pace the room in between attempts.
Entry 3: (Spencer)
Hunter was sick today. Or so he says. Hopefully the day off will give him the mental break he needs. I on the other hand made a few attempts but came nowhere near as close as I did while Hunter was at my side. I was only able to reach question 84 and could not successfully avoid the onslaught of asteroids that seemed to be targeting my every move.
Entry 4 (Hunter)
I am back, and we have been overcome by a feeling of utter and complete helplessness. The scary conclusion we are about to come to is that this quiz is in fact impossible. Our sanity is now in serious question as the quiz has seemingly started to talk to us and make an attempt to control our minds to change the way we live. I'm fearing for my life as I am no longer able to distinguish reality from the Impossible Quiz. Yesterday Spencer caught himself questioning his own existence as he was searching his bedroom for the seventh skip we need for the last level.
Author
Spencer Wasmund, Sports Editor
Spencer Wasmund is a senior and a first-year Sports Editor for the Statesman. When he isn't writing for the Statesman, Spencer enjoys playing football...
Hunter Hauck, Staff Writer
Hunter Hauck is an LHS senior and first-year Statesman staff member. Hauck is kept busy with Student Council, Best Buddies, tennis and other clubs. Outside...